PA17: Lamb Raises $410K in Q1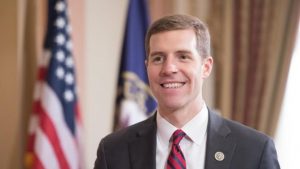 This Allegheny County Democrat and potential 2022 U.S. Senate candidate has filed his campaign's first quarter haul for 2021. 
Rep. Conor Lamb (D-Allegheny) raised just over $410,000 from the beginning of 2021 to the end of March, while spending just under $150,000 during the first three months of the year. He entered April with $1.1 million cash on hand.
According to Open Secrets, Lamb raised $4 million in the previous election cycle, which is the third most of any incumbent who was seeking reelection in the state's congressional delegation. Just under $8 million was raised in Pennsylvania's 17th Congressional District during the previous cycle, making it the second most expensive race in the state in 2020. 
Lamb's 2021 first quarter haul is more than double the amount he raised at the same point in the previous cycle. 
In 2019's April filing, Lamb raised just over $200,000, while bringing just $320,000 cash on hand into the 2nd quarter. 
Lamb isn't the lone member of the state's Democratic congressional delegation that is reportedly mulling a run for U.S. Senate. Reps. Madeleine Dean (D-Montgomery) and Chrissy Houlahan (D-Chester) are also weighing a bid for the 2022 open seat. Houlahan raised over $580,000 from the beginning of 2021 to the end of March, which is the most of any member of the state's delegation, and entered April with $3.5 million cash on hand. Dean raised just under $120,000 in the first quarter and entered April with $575,000 cash on hand. 
Lamb had the closest reelection bid of any incumbent in the state's congressional delegation in 2020. The Allegheny County Democrat bested GOP challenger Sean Parnell by just over 2 points to secure his second full term in Congress. 
The 17th District that Lamb represents went to Trump in 2016 by just a couple of points, although Joe Biden edged out Trump in the western PA District in the 2020 election. 
Lamb is one of three Democrats in the state targeted by the NRCC to flip in 2022, along with Reps. Matt Cartwright (D-Lackawanna) and Susan Wild (D-Lehigh).
However, Pennsylvania will lose a seat after redistricting, making it difficult for any challenger and incumbent to accurately size up their 2022 prospects.