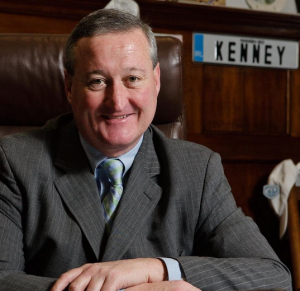 Philadelphia Mayor-Elect Jim Kenney is not one to rest on his laurels.
Two days after winning the election, and a day after launching his transition website, Kenney has announced the names of the 163 people who will help him move back into City Hall after spending 13 years as a City Council member.
For comparison, Gov. Tom Wolf's transition team had just seven people.
Kenney's transition team features 11 subcommittees, led by an eight-person Steering Committee. State Rep. Dwight Evans and former Human Services Commissioner Alba Martinez will serve as co-chairs of the transition team, with Jessie Bradley lined up as transition director:
Prominent Philadelphians on Kenney's transition team include: Philadelphia NOW President Nina Ahmad, Philly AFL-CIO President Pat Eiding, South Philadelphia High School Principal Otis Hackney, Temple Law School Dean Joanne Epps and civil rights attorney David Rudovsky.
Subcommittees:
Education

Commerce and Economic Development

Public Safety

City Administrative Services

Community, Culture and Recreation

Environment and Sustainability

Housing, Planning and Development

Human Services

Immigrant and Multicultural Affairs

Infrastructure and Transportation

DNC Preparation