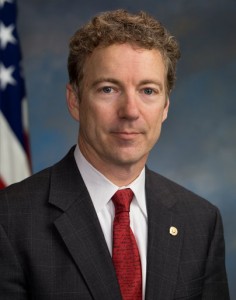 Kentucky Senator Rand Paul has emerged as a favorite among Pennsylvania's conservative activists. By a wide margin, he won the presidential straw poll at this weekend's Pa. Leadership Conference.
Paul rose to national prominence earlier this year when he filibustered on the Senate floor to protest the Obama administration's vague definition of its own powers vis-a-vis drone strikes.
In so doing he took up the mantle of his father, former Rep. Ron Paul (R-TX), whose brand of libertarian Republicanism energized conservative grassroots for years.
Many observers expect Paul to make a run at the GOP presidential nomination in 2016.
This year's PLC was the 24th annual gathering of movement conservatives from across Pa.
Paul took 39% of the votes. Florida Senator Marco Rubio came in second with 18%.
Senator Ted Cruz (R-TX) came in third with 16%, former PA Senator and presidential candidate Rick Santorum was fourth (6%) and New Jersey Governor Chris Christie was fifth (5%).
Other results from the group of grassroots, often anti-establishment conservatives offered a mixed bag for the Pa. Republican Party.
The attendees strongly disagreed with the state parties endorsement of candidates in the primary, with 75% of respondents reporting they do not agree with their parties choice of candidate.
While poll participants were fractured on their parties endorsement of candidates, they were still unable to reach a consensus on the situation PA is currently in.
But good news for Gov. Tom Corbett, who is looking over his shoulder at a potential primary challenge from Montgomery County Commissioner Bruce Castor. A total of 62% of respondents approved with the current job Gov. Corbett is doing.
Event organizers declined to include a primary matchup question for the Guv race, as well as any question measuring blowback against Sen. Pat Toomey after his effort to expand background checks.
47% reported supporting the job of the Commonwealth's Republican-controlled legislature.
Overall, only 37% of participants were satisfied with the direction Pennsylvania is going.
On the federal level, 51% approved of the job being done by the U.S. House, while only 4% approved of the job performance of the Democratically controlled U.S. Senate.
Unsurprisingly, respondents reported that the most important issues facing the in U.S. 2013 was government spending and size of government.
The straw poll included responses from 255 attendees and was conducted by Scott Davis. Organizers estimate that roughly 700 people attended the weekend conference.
Keegan Gibson contributed to this report.