Reader Poll: Corbett Won the First Gubernatorial Debate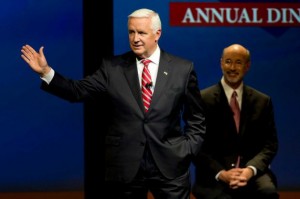 Well, it was a rout.
The reader poll that is (although some said the same about the event).
In the wake of last week's premiere gubernatorial debate, we asked our readers who they thought won. The incumbent Governor was judged the victor by a landslide.
1,969 readers, nearly three-quarters of respondents, voted Corbett the winner of the debate.
Meanwhile, just 743 respondents feel Democratic nominee Tom Wolf prevailed.
The full results are included below:
Who Won the First Gubernatorial Debate?
Tom Corbett (73%)
Tom Wolf (27%)

Loading ...