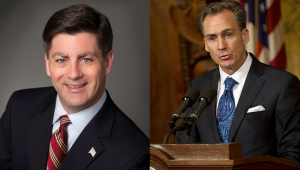 A candidates' debate is perhaps the most important yet overrated, overhyped but most-watched, event of any campaign.
Last week, it was revealed that gubernatorial candidates Tom Corbett and Tom Wolf will debate three times in the fall. These will be the only occasions throughout the long horse-race that is a political campaign where both candidates will face off one-on-one.
This got us to thinking about whether in addition to the three gubernatorial debates there should also be a debate between the candidates for Lieutenant Governor, Jim Cawley and Mike Stack.
Much like the Vice President, the Lt. Governor is a second-in-command with little powers who could have to step in at any moment. This begs the question, if the position is so potentially powerful and is included on the gubernatorial ticket, shouldn't we have the opportunity to see the candidates debate one another?
Vice-Presidential debates have become a tradition and oftentimes are far more enlightening (and entertaining) than their counterparts. Perhaps this would also be the case with a Cawley-Stack encounter.
So, we decided to ask you our readers, should the Lt. Gov candidates hold a debate?
Should There Be a Lieutenant Gubernatorial Debate?

Loading ...