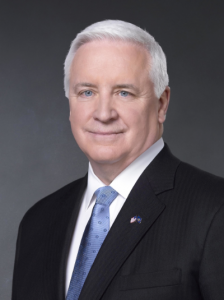 Last summer provided a serious, if nonetheless entertaining, fight over the budget and Governor Corbett's main proposals that went all the way to the brink of the legislative recess. While a budget was passed, when the clock struck midnight Gov. Corbett was 0 for 3 on his big three agenda items; liquor privatization, pension reform, and transportation funding.
The legislature will be back in session next month and the Governor will get another chance at passing these initiatives. This fall session, however, will be the last before the start of election year 2014 and the Governor is already considered in re-election trouble. As a result, this may very well be Corbett's last chance to pass his agenda.
So, which of Corbett's big three agenda items do you think are most likely to pass the legislature this fall?
Reader Poll: Which of Corbett's Big 3 Agenda Items Has Best Shot?
Transportation Funding (41%)
None (38%)
Liquor privatization (14%)
Pension reform (7%)

Loading ...