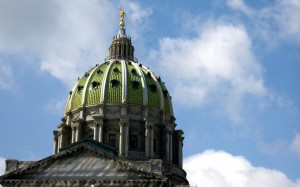 Time is running out.
The fiscal year ends on June 30th and the legislature must pass, and the Governor must sign, a budget by then.
Last week, State Senate Majority Leader Dominic Pileggi suggested that the government would miss the deadline and have to work into July.
The problem is complex, but basically comes down to the fact that Pennsylvania has a balanced budget amendment, but the state is currently about a billion dollars short on revenue. Before Gov. Corbett will consider any new taxes, however, he wants action taken on pension reform and liquor privatization. Not to mention other contentious issues that could come up like a severance tax on natural gas drilling or the Medicaid expansion.
Altogether, the scene is reminiscent of last year, when a budget was only passed just hours before the deadline. This time, though, it's an election year and everything will likely be harder.
So, given where everything currently stands we decided to ask our readers this question: Will we miss the June 30th budget deadline?
Will We Meet the June 30th Budget Deadline?

Loading ...