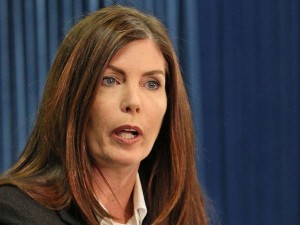 Prosecutor and Montgomery County District Attorney Kevin Steele presented his closing argument today.
Steele focused on Kane's statement that her feud with Frank Fina was a "war".
"As you all know wars have casualties," he told the jury. "Wars leave scars. And over the course of the last week, you've gotten to see some of those casualties."
According to Wallace McKelvey of the Patriot-News, Steele countered the defense's ninety minute closing with a nearly two hour performance.
He attempted to combat attempts by Kane's team to make the issue Adrian King and Josh Morrow.
"You're not here to decide Adrian King. You're not here to decide Josh Morrow," he said. "This is about the Commonwealth of P.A. and the defendant Kathleen Kane."
Steele finished by reminding jurors about the subject of the leak, J. Whyatt Mondesire, who passed away last year.
"Mr. Mondesire was never arrested," Steele declared. "He was never arrested. But she put it out. And that is not permitted under the law. That affected him."
The jury is set to begin deliberations later this afternoon.