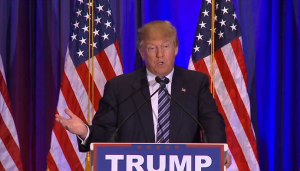 Donald Trump's first general election ads are finally set to hit the airwaves.
According to Mark Murray of NBC News, the total buy is $4 million from August 19th to 29th. As previously mentioned, PA is one of the four targeted states along with Florida, Ohio and North Carolina.
$984,000 is set aside for Pennsylvania.
$530K will go to the Philadelphia market, while $211,000 each is for the Harrisburg and Pittsburgh areas. An additional $32,000 is for satellite TV.
Murray also stated these numbers might go up as a result of a cable buy.
The Clinton campaign has been airing commercials in the commonwealth for a month and just unveiled their latest.