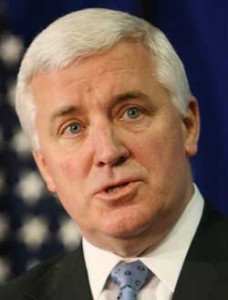 Pennsylvania Governor Tom Corbett can't seem to get any love these days – even from those within his own party.
Corbett set out what he promised to do if he were elected – but fulfilling those promises may be why neither Mitt Romney nor Paul Ryan have had him come along on their campaign stops.
Philadelphia City Paper reporter Daniel Denvir reported Wednesday:
As presidential hopeful Mitt Romney blazes his campaign trail, he's been calling on Republican governors from New Jersey's Chris Christie to Louisiana's Bobby Jindal for help. Not, it seems, invited to the party: Pennsylvania's Gov. Tom Corbett.


A new Franklin & Marshall College poll might hold a clue as to why: Corbett isn't winning any popularity contests these days. The proportion of Pennsylvanians who view him unfavorably has shot to 42 percent; just 32 percent hold favorable views. His job approval fell below 30 percent for the first time.

Corbett's public relations difficulties have prompted an early discussion of which Democrats might run against him in 2014 (it's a long list). It also means the governor might not be a helpful advocate for Romney's presidential campaign in this much-watched swing state. If Corbett does appear on behalf of Romney, Democrats might focus attacks on the governor's unpopular cuts to education and the safety net (the Democratic National Committee has already run an ad slamming Corbett's social conservatism, highlighting his infamous comment that women, who under a now-shelved bill would be forced to undergo a pre-abortion ultrasound, "just have to close your eyes").
Despite being a Republican governor in a state that has already had a few visits from the national GOP ticket – with Romney having stopped in Pittsburgh in May, Irwin last month and Ryan making his first appearance this week – it's odd that the Republican Governor hasn't been present.
The Morning Call reported Tuesday – the same day Ryan made his PA campaign stops – that Corbett spent his time visiting Westport Axle, a newly opened manufacturer of Mack Trucks in Upper Macungie, emphasizing the need for a revitalization in domestic manufacturing.
"We need to put America and Pennsylvania back to making things," Corbett said making a tour of the plant.
Also this week, Corbett took time that would have been spent gearing up for an reacting to the Ryan visit to promote state tourism. WNEP 16 in Scranton reported on the Governor's kayak tour on the Delaware River – although the trip was not without incident.
Anti-gas drilling protesters abounds and Democrats calling the trip hypocritical, given the cuts to the state's second-largest industry (next to agriculture). Corbett did, however, state that most of the cuts to tourism began before his time in office, and said he plans to increase its funding in the budget next year (though he wouldn't say how much).
Denvir points out correctly that such examples of Corbett's unpopularity, which has grown steadily since he took office – would create a distraction for the candidates that they do not need, especially with a state that already leans toward Obama.
From criticism from the left on Voter ID, to his handling of the Jerry Sandusky investigation as Attorney General – tying Corbett's name to the ticket would probably not help
But Corbett hasn't remained entirely absent, either.
The day after Denvir made his report, Corbett sent out a press release openly endorsing Romney's energy plan. He said that a Romney presidency would end the United States' reliance on imported oil and natural gas from outside North America.
"I applaud Governor Romney for his bold leadership in outlining a sensible plan to let our nation harness its abundant and clean energy resources," Corbett said in a press release.
"Securing our energy independence and developing our diverse natural resources in a manner that protects and enhances our environment is critical to long-term, sustainable job creation."