Mike Kelly has released his first TV ad, one aimed at small business owners like the Republican Congressman himself. As an owner of three car dealerships, Kelly's spot drives home his stance on government regulation and restoring America to its glory days as an industrial powerhouse.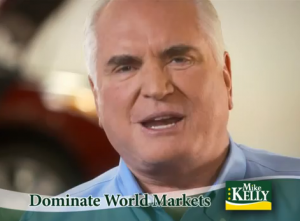 "In America, the path to prosperity starts with job creation, not government regulation. We must encourage the great minds of America to grow their businesses here, not oversees," says Third Congressional District Congressman Kelly as he pats a smiling autoworker on the back.
With images of Kelly speaking to a various workers inside an auto shop, Kelly tries to reinforce the idea that American prosperity is found at home, not overseas. "Let's not just participate, but lets dominate in the world markets…It's time to let Americans get back to work," says Kelly at the end of the ad.
The spot didn't exactly break the bank. It's airing on cable in the district, which stretches from Erie to Butler County.
His opponent, Democratic Nominee Missa Eaton may not disagree with his stance on jobs, but she would like to point out Kelly's impact while serving his term in Congress.
In response to the ad Eaton, a Penn State-Shenango psychology professor, called it a distraction.
"Mike Kelly is hoping voters forget that he's part of the obstructionist gang that has brought the approval rating of Congress to an all-time low," said Eaton who hopes to win Kelly's seat in the upcoming election with her Five Point Plan.
Eaton also said she hopes to hold a forum in each of the seven counties in the district that are open to all voters within the next two weeks, taking a more grassroots approach to her campaign.
However, Eaton's campaign funding has been dwarfed by Kelly's. That, plus redistricting, gives Kelly little reason to fear that he'll lose his seat in Congress.