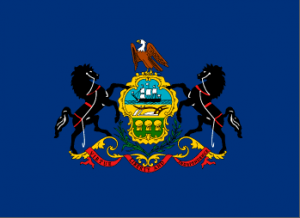 Toomey and McGinty are in a virtual tie, Killion is sworn into office and Pennsylvanians want pot. Good morning politicos, here's the Playbook!
PA-Sen: Quinnipiac Poll: Toomey 45% McGinty 44%: A complete breakdown of the latest Senate poll.
SD-9: Killion Sworn Into Office: The winner of last month's special election takes his place in the State Senate.
PA-Gov: Quinnipiac Poll: Wolf's Approval Stuck at Disappointing 36%: The Governor's numbers haven't recovered despite the temporary respite in the budget battle.
PA-Gov: Wolf Will Veto Bill Aiming To End Teacher Layoffs By Seniority: Governor Wolf explains why he disapproves of House Bill 805.
Quinnipiac Poll: PA Wants Marijuana: A majority of Pennsylvanians want legalization.
Quinnipiac Poll: 50% Want Kane to Resign: Attorney General Kathleen Kane's numbers hit a new low.
Quinnipiac Poll: President Obama's Approval Rating Jumps to 49%: The President's numbers are nearly above water in PA.
Statewide
PA Watchdog: Wolf to veto bill aimed at protecting best young teachers
PA Watchdog: Sub firm walks away from Philadelphia schools
Capitolwire: Another 'apples to oranges' comparison offers little insight on low charter grad rates.
Capitolwire: PA Senate floor activity wrap-up for May 10, 2016.
Philadelphia
CapitolInq: Q Poll: Toomey, McGinty in dead heat
Philadelphia Business Journal: Fate of Philly's soda tax still uncertain
Philadelphia Business Journal: Comcast donates $105K to Philadelphia Parks and Rec
Philadelphia Business Journal: Feds: State Sen. Farnese aid $6K to swing election
Inquirer: Jury awards Feibush $34K in dispute with Johnson
Inquirer: US House passes bill named for Gladwyne overdose victim
Inquirer: The Pat Toomey straddle on 'The Donald'
Inquirer: Clarke floats alternative soda tax plan
SEPA
Daily Local News: Tom Killion sworn in as state senator for Pennsylvania's 9th Senatorial District
Daily Local News: Verizon strikers protest at businesses in eastern Chester County
Delco Daily Times: State senator in Philly, Dem official indicted
Delco Daily Times: State and local officials discuss Chester County blight
Pittsburgh
Post Gazette: Government policies hurt urban areas, Wolf says
Post Gazette: Plan would create temporary zoning rules for 35 miles of Pittsburgh riverfront
Post Gazette: Pittsburgh council plans public hearing on exotic-animal ordinance
Pittsburgh Business Times: Federal student loans will be cheaper next year
KDKA: Wolf Expected To Veto Bill To Give School Boards More Authority To Fire Teachers
Pittsburgh City Paper: Will the city's rental-permit law be held up in court or be the newest piece of unenforceable legislation?
WTAE: After months of uncertainty, Shaler announces no teacher cuts
Southwest
Beaver Times: White House race poll has Clinton, Trump neck-and-neck in Pennsylvania
Beaver Times: Beaver County officials: Refinancing to save $6.7 million this year
Beaver Times: Beaver County DA will investigate claims against former aide to Commissioner Sandie Egley
Beaver Times: Beaver County officials still working to cut costs after buyouts and projected budgetary overruns
Beaver Times: U.S. Senate poll has Toomey, McGinty in a statistical tie
Beaver Times: As predictions have Pennsylvania leaning Democratic, Toomey keeps Trump at arm's length
Tribune-Democrat: Wolf Threatens Veto of Changes to Teacher Layoffs
Tribune-Democrat: Maryland officials plan to defend courthouse Ten Commandments monument
NEPA
Standard Speaker: Pedri tapped for Luzerne Council
Citizens Voice: Contentious tax collection issue could go to a referendum
Times Tribune: Barletta calls for better nomination process
Times Tribune: Pension oversight bill clears panel
Times Leader: Ashley votes to send monthly checks to fire department
Times Leader: Sen. Casey pushes $1.9 billion funding for Amtrak
Times Leader: Revised and expanded construction plans at WB Area special meeting
Times Leader: New Luzerne County Manager Pedri addresses critics
Times Leader: Turnout low at City Hall for a Day, a sign of few problems for Wilkes-Barre Mayor George
South Central
York Dispatch: Former superintendent was 'what leaders should be'
York Daily Record: Commissioners raise hotel tax
Lancaster Era: FTC files rare appeal to Monday ruling allowing merger of Hershey and PinnacleHealth
Carlisle Sentinel: Holly council accepts streetscape master plan as a concept for Baltimore Avenue
Lebanon Daily News: Commissioners honor election clerk Joan Sauers
Lebanon Daily News: DEP targets farmers to reduce pollution
Patriot News: How much are Harrisburg teachers paid, and how does that compare to your district?
Lehigh Valley
WFMZ: Budget deficit could lead to defeat for Easton Area Public Library
Reading Eagle: Campaign donor admits to bribery in pay-to-play investigations in Reading, Allentown
Morning Call: Bethlehem turbine project faces headwind in the Poconos
Express Times: 300-acre quarry site to be preserved, Upper Mount Bethel supervisors decide
North by Northwest
Centre Daily Times: U.S. judge calls Parks Miller's case 'inartful,' 'vitriolic'
Centre Daily Times: Commissioners declare May as 'bike month' in county
Sun Gazette: Gas company balks at 'excessive' fees by city
Sun Gazette: Commissioners eye acting as the Board of Appeals
Opinion
Inquirer: GOP scramble to avoid elephant in the room
Inquirer: Time for high court to rein in Pa. civil-forfeiture laws
Inquirer: Soda tax the right prescription for city's health
York Daily Record: Let's welcome our Muslim neighbors
Reading Eagle: Independent brewers keep Lauer's spirit alive
Centre Daily Times: Focus on students' well-being
Erie Times: Farewell to the Grand Old Party: Kathleen Parker
Patriot News: Gov. Wolf should reconsider his veto threat on teacher layoff legislation
Patriot News: Pa. opioid epidemic demands serious response
Post Gazette: Overbearing reach: City council can skip monitoring animal welfare
Blogs
Citified: Clarke Wants $100 Million to Fund Housing Repairs
Citified: Ori Feibush and Kenyatta Johnson Testify in Court Fight Over Point Breeze Properties
Keystone Crossroads: A bench? A park? Chester gets grant to crowdsource ideas for beautifying downtown
Keystone State Education Coalition: PA Ed Policy Roundup May 11: Wolf will veto seniority layoffs bill
Commonwealth Foundation: Sugary Drink Tax: Not So Sweet for Philadelphia
PA Budget and Policy Center:PBPC Research Prompts Senators  to Introduce Tax Fairness Legislation
PA Budget and Policy Center: Advocacy Update: Hunger Transcends Political Boundaries