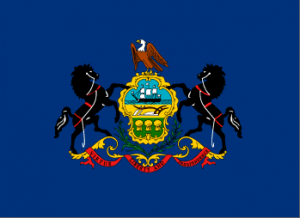 DCCC continues digital ad buys, Santarsiero gets a new job, Pennsylvania's elected officials react to the AHCA, and the Ups & Downs from the week.  Good morning politicos, here's the Playbook!
DCCC Targets Costello and Meehan in Digital Ads on the AHCA: The DCCC is running digital ads against Congressmen Costello and Meehan about the AHCA as part of a national campaign. Both Costello and Meehan voted against the AHCA.
Santarsiero Joins AGs Office: Former Congressional candidate Steve Santarsiero was appointed by Attorney General Josh Shapiro to be the Chief Deputy Attorney General of the Environmental Protection Section.
Pennsylvania's Elected Officials React to AHCA Vote: Reaction to the House's passage of the American Health Care Act spanned from complete support to the promise of resistance.
5/5 Ups & Downs: Bartos reports a big haul, Wagner gets into trouble after confrontation with a tracker, Wolf's approval ratings grow, Barletta boosts his name, and Costello, FItzpatrick and Meehan stand their ground. See who made this week's Ups & Downs!
Statewide
State House Sound Bites: State House Sound Bites: Episode 5
State House Sound Bites: Midstate AHCA opponents to Rep. Perry: 'shame on you'
StateImpact: EPA urges Pennsylvania to move faster on water safety issues
Philadelphia
KYW: Gov. Wolf Makes Stop In South Philly To Announce 'Fair Chance' Hiring Policy
Inquirer: Should the word 'worship' be in a township slogan?
Inquirer: Soros dumps $1.4 million into Philly DA primary
Inquirer: Environmental groups sue EPA over Philly ozone levels
SEPA
Bucks County Courier Times: Republicans battle in Newtown Borough mayoral race
Bucks County Courier Times: Two Democrats, two Republicans vying for party nominations for Northampton supervisor
Bucks County Courier Times: Rep. Brian Fitzpatrick gets a thank you for vote against Affordable Care Act repeal
Bucks County Courier Times: Michael Fitzpatrick to receive honorary doctorate from Holy Family University
Delco Times: Judicial bids only Pennsylvania-wide contests in May primary
Delco Times: Two Media council incumbents run without party support
Pottstown Mercury: Residents pack meeting to oppose Mariner East 2 Pipeline
Pottstown Mercury: Primary in Pottstown's Fifth Ward pits Smith vs. Weand
Pittsburgh
Tribune Review: Wagner, Turzai serve animosity at Westmoreland County GOP dinner
Tribune Review: Analysis: Health care repeal vote a GOP confidence-builder
Tribune Review: AHN hails patient volumes, efficiency in quarterly report
Tribune Review: Former supervisor suing Ligonier Township
Post-Gazette: Six candidates seek two Allegheny County judicial seats
Post-Gazette: Peduto says time is right for city to 'swing big'
Post-Gazette: Trump-backing Monessen mayor embodies quandary facing declining communities
Southwest
Altoona Mirror: Sides cite economic benefits, ecological risk of pipeline
Altoona Mirror: Report: State police cheaper
Altoona Mirror: AHCA, Trump's agenda could hit opioid response
Beaver County Times: Locals with pre-existing conditions discuss health-care bill
Beaver County Times: Beaver County Commissioners, Treasurer Connie Javens, fail to meet as questions linger about hotel tax
NEPA
Standard-Speaker: Primary voters to choose 3 of 7 Democrats for Hazleton City Council
Standard-Speaker: DEP unveils data website
Times-Tribune: Ten candidates seek four Scranton School Board seats
Times Leader: Outgoing mayor, county prosecutor vie for Edwardsville/Kingston district judge
Times Leader: Six candidates running for DJ seat in Shickshinny
Times Leader: Barletta, Yudichak, Toohil to co-host heroin/opioid forum
Times Leader: Cosgrove seeking full term on Commonwealth Court
South Central
Lancaster Online: Analysis: Scandal surrounding Lt. Gov. Stack could hurt Wolf in 2018 election
Lancaster Online: Lancaster County court system speeds up criminal caseloads, drastically reducing year-old case backlogs
Patriot News: Follow the campaign cash in the Harrisburg mayor's race
Patriot News: Harrisburg still owed thousands from Trump, Clinton campaigns
Patriot News: Trump plan would cut drug policy office by more than 90 percent
Lehigh Valley
Express-Times: Pennsylvania nixing conviction box on state job applications
Morning Call: Fundraising lags in Allentown mayor's race post FBI-probe, but money is still available
Morning Call: Charlie Dent hopes Senate gets Medicaid right
Morning Call: Jay Paterno elected to Penn State's board of trustees
Morning Call: Pennsylvania puts out list of tax delinquents owing a combined total of $1.2 billion
Morning Call: Politics as Usual: Casey, DHS' Kelly clashover Pa. deportation case
Reading Eagle: As Pennsylvania's population ages, budget woes will deepen
Reading Eagle: This group draws the line at gerrymandered districts
North by Northwest
Centre Daily Times: Jay Paterno, 2 others elected as Penn State alumni trustees
Centre Daily Times: Committee discusses how trustees can speak about board issues in public
Erie Times-News: Sinnott proud of Erie financial turnaround
Erie Times-News: Pennsylvania's budget woes might deepen with aging population
Erie Times-News: Roll Call: How Erie's representatives voted this past week
Opinion
Patriot News: Yes, Tom Wolf and Bob Casey are unpopular – but they'll still be tough to beat: Tony May
Patriot News: In the era of Trump, Wolf and Casey shouldn't take 2018 for granted: Charlie Gerow
Patriot News: Consolidating the Dept. of Drug & Alcohol Programs is the wrong move, Gov. Wolf: Gene Yaw
Altoona Mirror: Expanded gambling won't solve budget
Tribune Review: Zombies on Capitol Hill: Congressional disregard
Tribune Review: In pursuit of Cuban rum: Put a cork in it
Tribune Review: Pittsburgh tax hike's message: Buyers, look elsewhere
Bucks County Courier Times: A cause for shame among Republicans
Delco Times: Editorial: The shameful inequity in Pa. school funding
Erie Times-News: Our view: Schember is Democrats' best choice for Erie mayor
Erie Times-News: Our view: Persinger merits nod from Erie GOP voters
Patriot News: Easing up on EPA takedown
Standard-Speaker: Easing up on EPA takedown
Lancaster Online: With the debate over health care revived, everyone ought to have their say
Daily News: They went to Jared's family: How rich Chinese get green cards, poor Latinos get shaft
Daily News: DN commentary: Setting the record straight on medical marijuana
Inquirer: Union 'scholarships' for Williams kids don't smell right
Post-Gazette: For Commonwealth Court: Cosgrove and Ceisler stand out in Democratic pack
Reading Eagle: Editorial: Don't overlook important local elections