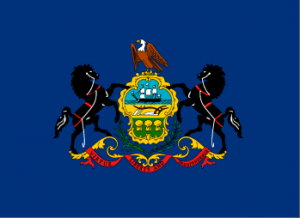 Beemer becomes Attorney General, Clinton and McGinty lead in the latest poll while we ask about the Philly DA Democratic primary. Good morning politicos, here's the Playbook!
BREAKING: Beemer Sworn in As New Attorney General: The former Inspector General is now Attorney General of the Commonwealth.
Monmouth Poll: Clinton 48% Trump 40%: That's ten straight polls that show the Democrat ahead in the Keystone State.
PA-Sen: Monmouth Poll: McGinty 45% Toomey 41%: McGinty leads in Monmouth's first survey of the PA Senate race.
Reader Poll: Who Will Win the Philadelphia DA Democratic Primary?: We ask our readers who the Democrats will choose.
Reader Poll: Readers Disapprove of Pres. Obama: Our readers don't have a favorable view of the President.
Dent Worries About Trump's Effect on Down-Ballot Races: House Democrats feel new seats are up for grabs.
PA-Sen: Sanders Endorses McGinty: The Vermont Senator is backing the Democratic nominee in the Keystone State.
Statewide
Capitolwire: Beemer confirmed as new Attorney General
Capitolwire: For many Pennsylvanians, Obamacare insurance options dwindling, new study shows  
PLS Reporter: Summer Session: Rep. Stan Saylor (R-York)
State House Sound Bites: Beemer quickly confirmed, sworn in as Attorney General
Philadelphia
WHYY Newsworks: Candidates clash in Bucks County congressional debate
WHYY Newsworks: New poll shows Democrats strong in Pa.
Inquirer: As scandals mount, Seth Williams tweets
Inquirer: Foreign felons back in custody, no thanks to Kenney
Inquirer: Senate approves Beemer as Pa. attorney general
Inquirer: Fitzpatrick, Santarsiero spar in first debate for Bucks seats
SEPA
Bucks County Courier Times: On the radio, Brian Fitzpatrick and Steve Santarsiero trade bards at first congressional debate
Bucks County Courier Times: Christie says decision on ending NJ-PA tax pact coming soon
Bucks County Courier Times: Pennsylvania ranked 47th on properly managing state pensions
Daily Local News: U.S. Sen. Bob Casey addresses bullying at Coatesville Area Senior High
Pittsburgh
KDKA: Poll: Clinton Holds 8 Point Lead Over Trump In Pennsylvania
WESA: Pennsylvania's Convicted Ex-Top Prosecutor Swiftly Replaced
Post-Gazette: Officials weeks away from releasing Pennsylvania's porn email report
Post-Gazette: In southwestern Pennsylvania, joint approach to opioid epidemic emerging
Post-Gazette: Bernie Sanders emails message of support for Katie McGinty
Tribune-Review: President to visit Pittsburgh for 'Frontiers' conference in October
Tribune-Review: Beemer says he'll bring 'honor and integrity' to Pa. AG's office
Southwest
Tribune-Democrat: Cambria County GOP Distributes Thousands of Trump Yard Signs
Observer Reporter: PA's Convicted Ex-Top Prosecutor Quickly Replaced
Beaver County Times: Wolf unveils 25 additional 'centers of excellence' for opioid addiction treatment
NEPA
Pocono Record: Kane's vacant seat filled by Bruce Beemer
Citizens Voice: Senate returning to session for AG vote Tuesday
Citizens Voice: Beemer replaces Kane
Times Tribune: The Latest: New attorney general: Difficult times under Kane
Times Leader: Luzerne County Manager David Pedri provides status report on all divisions
Times Leader: Elected officials tour Dorrance Township farm, hear about farming issues
South Central
Patriot Times: When are Harrisburg police officers allowed to use force?
Patriot Times: Tim Kaine slams trump in Lancaster: 5 takeaways from the campaign stop
Patriot Times: School District of Lancaster appeals after refugee students win lawsuit
Lebanon Daily News: Christian Recovery Aftercare gets grant to expand
Carlisle Sentinel: Moving mussels from Wolf Bridge project in Middlesex Township pegged at $15k
Carlisle Sentinel: Contract for Pennsylvania government workers nears approval
York Daily Record: Cedar Cliff HS will be closed Wednesday because of mold
Lehigh Valley
WFMZ: Catasauqua Borough Council: Sewer plant refinancing to save tax payer dollars
Reading Eagle: Richmond Township planners review Dunkin' Donuts proposal
Morning Call: Charter school's first day delayed one week
Express Times: LVIA to see $5M upgrade for rental car and bus service
North by Northwest
Onward State: UPAC Implements Policy Changes, Prepares For Semester Under Young Leadership
Centre Daily Times: Commissioner seeks replacement for closing bank
Erie-Times: Erie County Council to conduct special meeting on EMTA proposal
Erie-Times: State to begin new audit of Millcreek schools
Opinion
Patriot Times: I'll restore trust and integrity to the Attorney General's Office: John Rafferty
Morning Call: Are you concerned that two state election systems were hacked into?
Erie-Times: Erie Police Chief Bowers spent career overcoming obstacles
Inquirer: Stack: I regret voting for anti-abortion law
Post-Gazette: Let the chips fall: Release report on state workers in email chain
Post-Gazette: Apple, bitten: Europe calls for a massive tax payback
Blogs
Keystone State Education Coalition: Vast Majority of Americans Want Failing Schools Fixed, Not Closed
Commonwealth Foundation: Public Remains Supportive of School Choice
Above Average Jane: SEPTA Updates
Lehigh Valley Ramblings: Gerrymandering: How Our Elections Are Really Rigged