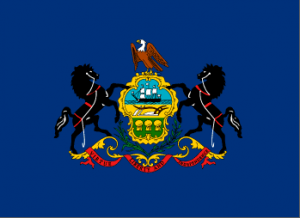 Clinton leads the latest CBS/YouGov poll, Pres. Obama's approval slips while McGinty and Toomey are tied in the PA Senate race. Plus, last week's Ups & Downs! Good morning politicos, here's the Playbook!
9/2 Ups & Downs: A new Attorney General, a slew of new polls and an old tire-slashing mystery is finally solved. See who made this week's list!
CBS/YouGov Poll: Clinton 45% Trump 37%: This is the 13th consecutive survey to show the Democratic nominee ahead in the Keystone State.
PA-Sen: CBS/YouGov Poll: McGinty 39% Toomey 39%: The latest survey shows a tie.
F&M Poll: Pres. Obama's Approval Slips to 45%: The President's numbers fall but are still some of his best in years.
Sunday Show Preview: September 4, 2016: We take a look at the Sunday morning political talk shows that will air throughout the state.
Statewide
Capitolwire: Future of gaming expansion up in the air
City and State: Sole bidder for Philly's pre-K contract has political ties to Kenney
City and State: Philly Pre-K contracts divide school officials, union members
StateImpactPA: Complaints rise over Sunoco's Mariner East 2 permits
StateImpactPA: PJM says compliance with Clean Power Plan won't disrupt electric supplies
State House Sound Bites: Ruling on PA charter school could set a precedent
State House Sound Bites: Elections officials reassure PA voters: databases are secure
Philadelphia
KYW: Trump supporters clash with protesters in Philadelphia
Inquirer: Democratic nominee Josh Shapiro and Republican nominee John Rafferty lead the way towards Attorney General replacement
Inquirer: Johnny Dougherty "Johnny Doc" stands strong in midst of FBI investigation against Bobby Henon
Inquirer: Ursinus College controversy erupts over board chairman's tweets
Inquirer: MIA day 2, a Bill Clinton sighting and jamming on the Parkway, where sunshine ruled
Philly.com: Celebrate 100 years of Pulitzer Prizes and Pennsylvania
WHYY Newsworks: Federal and State investigations swarm Philadelphia's Labor Day Parade
Philadelphia Business Journal: Donald Trump visits Philadelphia with the hopes of gaining support from African American voters
SEPA
Pottstown Mercury: Trump vs. Clinton a political debate that will draw more attention than Nixon and Kennedys TV appearance in 1960
Pottstown Mercury: Admissibility of Cosby deposition at heart of pretrial hearing
Bucks County Courier-Times: Keys to workplace happiness include work-home balance, autonomy, respect
Bucks County Courier-Times: Bucks County prepares for the worst with updated disaster plan
Bucks County Courier-Times: Campaign donation and political poll fraud is ramping; beware
Delco Daily Times: Reading and Chester continue to struggle due to large revenue gap
Montgomery Media: Clinton and Trump continue to differ over climate change
Bucks Local News: McGinty gains Democratic support while Toomey continues to fight for US Senate seat
Daily Local News: Civil rights, labor leader, and advocate for equal pay Lilly Ledbetter scheduled to speak in Downingtown
Pittsburgh
Post-Gazette: At Labor Day parade, voters weigh candidates' worker-friendly bona fides
Post-Gazette: Labor groups celebrate unionization efforts at local colleges
Post-Gazette: Doctors recommend vaccination against most dangerous local virus: influenza
Post-Gazette: Boston Marathon bombing survivor to share her story, foundation at Women's Leadership Council breakfast
Post-Gazette: Seniors lend a hand as cultural volunteers in the region
KDKA: Steelers 5K Raises Money For Art Rooney Scholarship Fund
KDKA: Liberty Bridge Fire Burned To 1,200 Degrees, Contractor Taking Responsibility
Tribune-Review: Democratic VP hopeful Kaine touts value of labor in Pittsburgh
Tribune-Review: American veterans, fellow foreigners join battle against ISIS in Iraq
Southwest
Altoona Mirror: Blair County Courthouse continues to improve
Altoona Mirror: Districts struggle to find teachers
Beaver County Times: Another Beaver County police department adds cameras to vehicles
Beaver County Times: While EpiPen price controversy rages, Hillary Clinton releases plan to curtail drug price hikes
Tribune-Democrat: More than $200K sought for Murtha commissioning ceremony
Tribune-Democrat: Auditor general finds some state offices have more vehicles than workers
NEPA
Times Leader: EPCAMR donates 'mini-grants' to local cleanup groups
Times Leader: Wyoming Valley residents still talking recovery 5 years after flood
Times-Tribune: Superior Court considering contempt ruling against AG employee
Times-Tribune: Record number of college students start class in Lackawanna County
Times-Tribune: LGBT bill faces short window for passage
South Central
Patriot-News: Angered by Donald Trump's 'war zone' comment?
Patriot-News: Pennsylvania's largest state government union ratifies new labor contract
Patriot-News: Gov. Tom Wolf names acting inspector general
Patriot-News: Fired female Pa. Turnpike exec can keep pressing sex discrimination claim, U.S. judge says
Patriot-News: Police car damaged during 'disturbance' involving 100 teens in Steelton
Carlisle Sentinel: Chelsea Clinton to campaign for her mother in Carlisle Wednesday
Carlisle Sentinel: Carlisle YMCA in 'quiet phase' of revitalization project
York Dispatch: West Shore to discuss teacher contract with public
Lehigh Valley
Morning Call: Report from unexpected source helps explain Donald Trump's working class appeal
Morning Call: Workers march to honor their predecessors
Morning Call: Lafayette College professor ends hunger strike
Morning Call: Schools grapple with substitute teacher shortage
Reading Eagle: Berks parks, recreation areas provide sunny summer's end on Labor Day
Reading Eagle: Maidencreek Township man recalls chaos of 9/11
WFMZ: Trump-Pence Victory Center opens in Stroudsburg
Express Times: Lafayette College professor to end hunger strike over tenure process
North by Northwest
Centre Daily Times: Families enjoy Shaver's Creek before it closes for renovations
Erie Times-News: Erie bears brunt of tough year for unions
Erie Times-News: Erie community comes together to address addiction epidemic
Opinion
Patriot-News: Kane 'smiled the whole way through' her trial, author Bumsted says
Patriot-News: With Labor Day upon us – a respite and a reminder of the work ahead
Inquirer: Trump focus on border wall is self-serving
Daily News: Your Pa. tax dollars at work, siccing dogs on Native American protesters
Tribune-Review: How Republicans must save Republicanism
Post-Gazette: Asia central: The G-20 summit highlights the rise of China
Post-Gazette: The dream of WWW: At the age of 25, let a limitless horizon beckon
Post-Gazette: Order in the class: A Duquesne program promotes smart discipline
Blogs
Citified: 28 Days Later, Still No Answers From Henon About the FBI Raid
Keystone Crossroads: Report finds wage stagnation and decline across Pennsylvania
LuLac Political Letter: Why Labor Day Sucks in Lulac Land
2 Political Junkies: Chris Wallace (Of Fox "News"): Not My Job To Fact-Check Debates