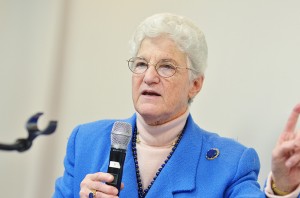 Speaking at a news conference and campaign rally at the Franklin Institute, former District Attorney Lynne M. Abraham announced her entry into the already crowded race for Philadelphia Mayor.
Abraham was popular throughout her 18-year tenure as DA for her tough public stance on crime, and she discussed using the same fiery demeanor to take on the city's problems.
Abraham declared, "if you want a leader who will transform Philadelphia under the banner of reform, who has the experience to get things done, the grit, the desire and courage to break some china along the way, and turn Philadelphia into a great American city, I'm your candidate."
Perhaps the most well known candidate in the race thus far, the 73 year old Abraham (she'd be 75 at inauguration) is a practical lifer in Philadelphia politics, having been closely associated with the Rizzo administration in the 1970's.
One advantage for Abraham is that City Controller Alan Butkovitz's recent announcement that he is foregoing the race could transfer some of his blue-collar support to her.
Already in the race is former city solicitor Ken Trujillo and the former head of the Redevelopment Authority Terry Gillen. State Senator Anthony Williams is expected to get into the race later today.