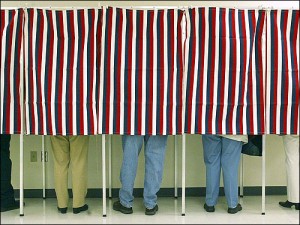 Today's the day, politicos. All the work, the campaigning, the TV ads – it all ends today. Check PoliticsPA all day for the latest from the ground around the state. Good morning and here's the Buzz.
Keep track of our coverage all day with these Open Threads: Statewide Races, Congressional Races, and State House and Senate Races.
Are you in the Harrisburg area? PoliticsPA is partnering with ABC 27 for election night coverage.
Mitt Romney to Campaign in Pittsburgh Today: Mitt Romney's push for Pennsylvania will literally go down to the final day, as he is set to visit Pittsburgh.
Inaccurate PA Dep't of State Mailer: Voter ID Required: Several voters received a mail piece Monday – marked as paid for by the Pa. Department of State – which gives inaccurate information about identification requirements at the polls.
Final Push
Clinton Campaigns Across Pa: Former President Bill Clinton lead a series of rallies across Pa. Monday, headlining Democrats' last-minute effort to jazz their base and get out the vote. From Pittsburgh, Montco, Philly and Scranton.
Casey & Dems Statewide Tour Comes Through Harrisburg: Bob Casey crossed Pa. during the final day of campaigning as he looks to secure a second term in the U.S. Senate.
GOP Ticket on Last Day Blitz: The stump speeches are set and the candidates exhausted. Republicans up and down the ticket stumped across Pa. on Monday in their last-ditch effort to make the news and reach out to undecided voters.
Last Minute Polls
MCall Poll: Casey 48, Smith 42; Kane 49, Freed 36: Just a few days out, Democrats had solid leads in the race for U.S. Senate and Attorney General. That's according to the latest poll from the Allentown Morning Call and Muhlenberg College.
Angus Reid Poll: Obama 51, Romney 47; Casey 53, Smith 46: Barack Obama and Bob Casey both lead in Pa. according to the latest survey from Angus Reid Public Opinion. The firm conducts polls from an online sample.
LFR Poll: Obama, Casey with Narrow Leads: A poll released by Let Freedom Ring Inc. shows President Obama and Senator Casey with narrow leads.
Features
Breaking Down the Presidential Picture by TV Market: Veteran GOP operative Chris Nicholas breaks down Pennsylvania's 2008 election results by television market and says where Mitt Romney will need to improve on John McCain's performance to score a win here.
Newspaper Endorsements Open Thread: It's that time of year. Newspapers around Pa. are backing candidates. Here's PoliticsPA's running list of endorsements in statewide and congressional races.
Legislative Election Updates
Environmental advocates say they'll have made around 100,000 voter contacts in districts against 4 GOP state Reps who toed the party line on Marcellus votes. They're targeting Rep. Truitt (HD 156) and Rep. Kampf (HD 157) both in Chester County, Rep. Simmons (HD 131) in the Lehigh Valley, and Rep. Saccone (HD 39). "We're not wealthy like Range Resources, we're not running television ads 24/7.  But, we can talk with voters one on one, in their homes and on the phone, and let them know how their state representatives are voting on gas drilling," said Myron Arnowitt, PA State Director for Clean Water Action.
SD-17: Here's a Times-Herald interview with GOPer Charles Gehret.
SD-23: The Williamsport Sun-Gazette has a wrap of the race between Sen. Gene Yaw (R-Lycoming) and longshot Dem challenger Luana Cleveland.
SD-35: The Centre Daily Times has a wrap of the race between Sen. John Wozniak (D-Cambria) and Tim Hauser.
HD-83: The Williamsport Sun-Gazette has a wrap of the race between Rep. Rick Mirabito (D-Lycoming) and Harry Rogers.
HD-120: Rep. Phyllis Mundy (D-Luzerne) faces a suddenly hot challenge from Aaron Kaufer. The Times-Leader has a look at the money in the home stretch of the race.
HD-171: The Centre Daily Times has a wrap of the race between Rep. Kerry Benninghoff (R-Centre) and Christopher Lee.
Statewide
NRO: Mitt Romney's keystone state
Forbes: Insides Americans for Prosperity's ground game
Capitol Ideas: Casey hits an AFSCME phone bank near Harrisburg.
Capitol Ideas: Republicans in rally in Harrisburg, promise "One More Day" before change in the White House.
Capitol Ideas: A post-Sandy bounce for Gov. Corbett in new MCall/Muhlenberg poll? Not exactly.
State House Sound Bites: GOP's majorities likely to remain in state House, Senate
State House Sound Bites: Election 2012: Three challengers face Pitts in 16th District
State House Sound Bites: Karen Ramsburg seeks to oust Congressman Bill Shuster in PA-9
State House Sound Bites: Gene Stilp challenges Congressman Lou Barletta in PA-11 race
PA Independent: Romney's push in Pennsylvania, better late than never
PA Independent: Sandy won't stop voting even if 8 polling places still without power
PA Independent: Smith makes final pitch to voters, aims to finish upset campaign
PA Independent: Constable security on Election Day longtime expense
Capitolwire: For Casey and Smith, a mix of retail politics and rallies in final days of campaign.
Capitolwire: OFF THE FLOOR II: Which races should Gov. Corbett be watching Tuesday?
Capitolwire: OFF THE FLOOR: Turzai's careful middle path on education paying off for House GOP in elections.
Capitolwire: OFF THE FLOOR: Upsets looming in widely-contested state House races, but neither party to pick up many seats.
Capitolwire: OFF THE FLOOR III: Incentives or consequences? Raising your kid like the future AG does.
Philadelphia
Philly Post: Voting already a mess in Philadelphia
Inquirer: Clinton stumps for Obama in Montco
Daily News: Nutter now backing all 4 ballot questions
Daily News: What about those ballot questions?
Inquirer: Final election thoughts
Inquirer: Watchdog: 'Beginning to look like a messy election'
Inquirer: Philadelphia ballot questions include new panel to set water, sewer rates
Daily News: All you need to know before you vote
Daily News: Are payments to Chester rep's family conflict of interest?
Daily News: John Baer: The grim reality of where we are as a nation in this election
Philly.com: Source: Gov. Christie rebuffed Romney's rally request
Heard in the Hall: Nutter Actually Supports Ballot Measures
PhillyClout: Nutter revises position on some ballot questions
PhillyClout: The rally before the game
PhillyClout: Monday — Romney visits Pa in final hours of campaign.
PhillyClout: Political watchdog predicts 'messy' Election Day
WHYY Newsworks: Getting young professionals involved in local politics
WHYY Newsworks: Absentee ballot deadline extended in some Pa. counties
WHYY Newsworks: Stumping for Obama, Bill Clinton sweeps through Pa.
WHYY Newsworks: Nervous? Panicky? You just may have a case of election angst
WHYY Newsworks: How Dick Polman got his political groove
WHYY Newsworks: GOP expected to retain majorities in Pa. House, Senate
WHYY Newsworks: Could Superstorm Sandy sway the Presidential election?
WHYY Newsworks: On election eve, physicians offer prognosis on health-care law
SEPA
PhillyBurbs: Burlington County Times Interactive Voters Guide
PhillyBurbs: The Courier and Intelligencer Interactive Voters Guide
PhillyBurbs: No tax hike planned in New Britain Twp
Delco Daily Times: New county budget includes 2.8 percent tax hike
Delco Daily Times: Bill Clinton barnstorms Pa. for Obama, Democrats on final day
Delco Daily Times: Election 2012: The time to decide has arrived
Delco Daily Times: Who to contact for issues at the polls
Delco Daily Times: Election 2012: Hackett and DeMarco spar in 161st Legislative District race
Delco Daily Times: 5 things you need to to know for Election Day Tuesday in Pa.
Delco Daily Times: Here are some people predicting a Romney victory tomorrow
Delco Daily Times: Nine Electoral College predictions have Obama ahead
Delco Daily Times: Need to find your polling place? Check here
Delco Daily Times: An interactive look at Tuesday's presidential election including a quiz
Delco Daily Times: Election races
Pottstown Mercury: Bill Clinton to rally Obama supporters in Blue Bell
Pottstown Mercury: Answers to your election question
Daily Local: Senate candidate Smith makes West Chester swing
Pittsburgh
KDKA: Bill Clinton pitches for Obama at Market Square Rally in Pittsburgh
KDKA: Allegheny Co. Elections Director offers a look at what voters can expect at polls
KDKA: ACLU: Pa. giving false voter info in Spanish
KDKA: 2012 General Election Voting Information
KDKA: Anti-Obama office vandalized for second time in 2 weeks
Post-Gazette: J'Burgh earns national props for involving young Jewish adults here
Post-Gazette: Thousands rally for Romney's last-ditch Pa. bid
Post-Gazette: Romney schedules election-day visit to Pittsburgh
Tribune-Review: Romney includes Pittsburgh International Airport in Election Day campaign blitz
Tribune-Review: Clinton makes last-minute pitch for Obama in Market Square
Tribune Review: Poll watchers will be in place for Election Day
Early Returns: Last-minute dollars flow to candidates
Early Returns: Romney to Pittsburgh
Early Returns: Letter: Pgh Tea Party targeting black voters
Early Return: One Day left
Southwest
Tribune Review: Redistricting, retirements open door for Dem control of Senate
Altoona Mirror: Political season winding down
Altoona Mirror: Bellwood-Antis district losing a member
Beaver County Times: Romney adds Election Day stops in Pittsburgh, Cleveland
Beaver County Times: Bill Clinton barnstorms Pa. for Obama Democrats
Beaver County Times: Kasich boosts Romney by laying off divisive ideas
Beaver County Times: Obama, Romney pursue last votes in close race
Beaver County Times: Big returns: Altmire gives back $1 million
Beaver County Times: It's election time
NEPA
Citizens' Voice: Former prez Clinton at Scranton High
Citizens' Voice: Campaign yard signs few and far between in this election
Citizens' Voice: Giuliani, Toomey to cheer on GOP hopefuls in Wilkes-Barre
Citizens' Voice: Freed, Kane present case for runs as AG
Times Leader: Clinton in as Obama's persuader in chief
Times Leader: Mundy has more money, spends more than Kaufer
South Central
Lancaster Intelligencer: Bill Clinton barnstorms Pa for Obama
Lancaster Intelligencer: Pa voter registration statistics for 2008 and 2012
York Daily Record: What next for the losing Vp candidate
York Daily Record: Same sex marriage on the ballot in four states
York Daily Record: Five senate races to watch election day
York Daily Record: Mitt Romney and mormonism: a reading list
Harrisburg Patriot News: Election Preview: what people are saying
Harrisburg Patriot News: Bill Clinton campaigns in Pennsylvania today
Lehigh Valley
Morning Call: Voting places being readied after Sandy
North by Northwest
Campaign '12 Blog: Tom Smith to campaign in Erie this evening
Centre Daily Times: Kerry Benninghoff, Christopher Lee talk jobs, shale fee ahead of election
Centre Daily Times: Sen. John Wozniak, challenger Tim Houser to face off for Pa. Senate seat
Williamsport Sun Gazette: State House, Senate seats up for grabs this Tuesday
Blogs
Breitbart: Philly activist group shreds GOP voter registration forms
Keystone Politics: Tea People Planning to Intimidate Black Voters in Pittsburgh?
Keystone Politics: Vote for the Party, not the Person
Keystone Politics: More on Scranton Land Tax Reform
Keystone Politics: How Is Romney's Late PA Push Supposed to Work?
Keystone Politics: Low information Voters Stay Home