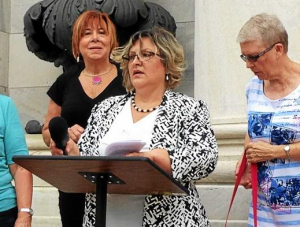 Lisa Esler, a Tea Party activist who unsuccessfully sought the Delaware County Republican Party Nomination, announced on Monday her bid as a write-in candidate for the 161st Legislative District seat.
In her announcement speech on the Delaware County Media House Steps, Esler pledged to "represent all the people in the district," not just the monied special interest groups "running Harrisburg."
"I think it's time for people to have a voice in Harrisburg," she said. "(I want) to make sure people understand what's going on in the 161st."
Delaware County will hold a special election on August 4 to fill the seat formerly held by Republican State Rep. Joe Hackett. Hackett resigned his seat this April, just months into his third term, to return to his job as a detective in the Delaware County Criminal Investigation Division.
Esler will face Republican nominee Paul Mullen and Democratic nominee Leanne Krueger-Braneky. Mullen is President of the Delaware County AFL-CIO and the Business Manager of the International Brotherhood of Electrical Workers Local 654. Krueger-Braneky faced Hackett in the 2014 election.
Esler criticized Mullen's nomination, calling him a "liberal Democrat" supporter whose nomination was "a slap in the face to every Republican in Delaware County." She believes his involvement with unions will feed into special-interest decision making in Harrisburg.
"We need people who are willing to stand up to the lobbyists and the party machines and work for the taxpayer," she said.