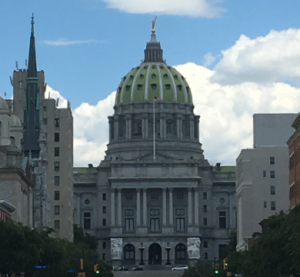 Gov. Wolf sends out an attack ad while Wagner says it's a sign that their opponents campaign is "panicked". Happy Wednesday politicos, here is the Playbook.
Wild Holds Comfortable Cash Lead with Some Outside Help: The open PA-7 seat has garnered national Democrats' attention.
Where the PA Delegation Stands on the Trump/Putin Summit: We ranked responses from the harshest words for the President, to the most supportive.
Wolf Blasts Wagner in New Ad: Governor Wolf goes on the offensive, seeking to define Wagner as a tool of the gas industry.
Harrisburg & DC
AP: Pennsylvania senators blast Trump after summit with Putin
AP: Revenue at Pa. casinos creeps to record high
Post-Gazette: Legalized gambling is close. So is a big decision for NCAA schools
WESA: Wagner, Wolf Volley Over Education
WESA: State Confirms Unauthorized Changes Were Made to Vital Records Site
AP: Penn State Frat Hazing Death Trial Scheduled for February
Philadelphia
WHYY Newsworks: Wolf administration touts opioid help hotline, other initiatives
WHYY Newsworks: Barletta treads softly on Trump's encounter with Putin
PhillyVoice: Five former Pennsylvania governors – and Tom Wolf – to meet, share office stories
Inquirer: Pat Toomey used Senate tradition to block an Obama Pa. judicial pick. GOP leaders won't give Bob Casey the same difference
Inquirer: Barack Obama, in apparent rebuke of Trump: 'Politicians have always lied, but…'
Inquirer: Democrats in key races say Russia comments show need for a check on Trump in Congress
Inquirer: Carmella Rizzo, tiny force behind former Philly Mayor Frank Rizzo, dies at 101
Philadelphia Magazine: New Philly Mural Takes a Stand Against Trump Immigration Policy
The Advocate: Brian Sims: Young People Will Save the Democratic Party
KYW Newsradio: Legislation introduced to relieve property tax burden through sports betting dollars
SEPA
Bucks Local News: Wolf administration's new anti-opioid efforts seen as too little to stem rising tide of addiction, overdoses
Pottstown Mercury: Local lawmakers to hold clean energy forum at WCU
Bucks County Courier Times: State Rep. Tina Davis: Dedicate state cut from sports betting to tax relief
Bucks County Courier Times: Hatboro council looks at parking to revitalize York Road storefronts
Delco Daily Times: Residents demand a shutdown of Sunoco pipeline project
Delco Daily Times: Community Briefs: Delco D.A. hosts opioid discussion in Springfield
Pittsburgh
Tribune Review: East Pittsburgh mayor defends borough during tense council meeting
Tribune Review: Opponents of UPMC pack Pittsburgh City Council hearing on health system's $2B expansion
Tribune Review: Training, funding discussed at hearing on improving relations between police, communities
Post-Gazette: Planners tout Pittsburgh-to Chicago hyperloop to local officials
Post-Gazette: Arnold City Council asks state Senate, governor to remove mayor after social media posts
Post-Gazette: Ross commissioners add restrictions to medical marijuana facilities
Pittsburgh Business Times: Nine Pa. casino operators, including Rivers, submit request to host iGaming
Pittsburgh Business Times: $4M in infrastructure projects proposed to city council
City Paper: Six arrested protesting for redistricting reform at state Speaker Mike Turzai's home in Marshall
City Paper: Port Authority's new CEO isn't chasing robots to improve public transit
WTAE: Mayor proposes shifting Pittsburgh funds to deal with landslides, other neighborhood needs, projects
SWPA
Beaver County Times: Auditor general expands elections audit after reports of Russian involvement
Observer-Reporter: North Franklin concludes sexual harassment investigation in police department
Observer-Reporter: Charleroi Council reappoints president, police board representatives
Observer-Reporter: New Beth-Center superintendent aims to boost morale
Johnstown Tribune-Democrat: Creativity needed to solve Pa. problems, local lawmakers say
Johnstown Tribune-Democrat: Region's lawmakers respond to Trump-Putin meeting
NEPA
The Times Leader: WB hopes delay minimal with switch to new contractor for Solomon Creek wall
The Times Leader: Wilkes-Barre's balance sheet shows $10M surplus at 2018 midpoint
The Times Leader: Pedri: Luzerne County receives leftover TIF funds from redevelopment authority
Times-Tribune: Hunt for man accused of Trump threat reaches South Abington Twp.
Times-Tribune: Former commissioner testifies in newspaper defamation case
Citizens Voice: Dallas School District appeals order
Citizens Voice: Ex-Lackawanna chief of staff accused of indecent assault
South Central
PennLive: What's behind Scott Wagner's public school pivot? | Tuesday Morning Coffee
PennLive: Pennsylvania Immigrant and Refugee Women's Network opens Harrisburg office
PennLive: Rep. Steve Bloom reveals his plans for life after elected office
WITF: State auditor broadens review of PA's voter system
Lehigh Valley
Express Times: Trump says he misspoke. What Lehigh Valley senators and candidates thought of Putin summit
Express Times: Plans tweaked for sewage processing plant proposed in Slate Belt
Reading Eagle: Gov. Mifflin support staff gets new contract
Reading Eagle: Reading City Council to consider ordinance for housing funds
The Morning Call: Susan Wild takes early fundraising lead in Lehigh Valley congressional race
The Morning Call: What you need to know as Pa. politics heat up over energy sector subsidies
The Morning Call: Pennsylvania Gov. Tom Wolf releases guidelines on prescribing opioids to injured workers
WFMZ: Allentown director of parks and recreation to be terminated
North by Northwest
Erie Times-News: Protesters come out for DeVos stop in Erie
Erie Times-News: Amid protests, DeVos makes no public remarks in trip to Erie
Sun-Gazette: Home rule commission seeks to cut city controller, treasurer with new charter
Sun-Gazette: South Side's proposed cellphone policy gets 3-2 vote, awaits final vote
Sun-Gazette: Muncy School District elects a new board member
Opinion
Lehigh Valley Ramblings: NorCo Has Record Year in Cash Seizure From Drug Dealers
Commonwealth Foundation: State Rep. Stephen Bloom to Join Commonwealth Foundation as Vice President
PennLive Opinion: With this year's Pa. budget, lawmakers missed some key opportunities
Will Bunch: It's time for a general strike, because Trump treason demands a brave response
Inquirer Editorial Board: Congress should censure Trump over Russia
Abraham Gutman: Philly's agreement with ICE: What it is and how Mayor Kenney can show moral clarity by ending it
Rob Wonderling: Trump can save Philadelphia's refineries
Ernest Owens: I Could Have Been Michael White
Teresa Lundy, Natalie Midiri, Nina Ahmad: Are Democratic Socialists the future face of the Democratic Party?
Phil Gianficaro: Trump support of Putin a Helsinking feeling
Chris Freind: Trump got one thing right — NATO is a welfare state
Christine Flowers: Trump's harsh rhetoric belies the way of the world
Pat Buchanan: Is a NATO crisis inevitable?
Post-Gazette Editorial Board: Mandela at 100: The lessons of the South African leader resonate
Taylor Armerding: Partisanship infected Supreme Court years ago