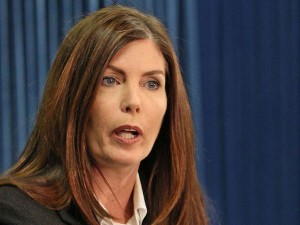 Why did the Judicial Conduct Board largely exonerate Supreme Court Justice Michael Eakin and his emails?
Well, according to Kathleen Kane, it is because First Deputy Bruce Beemer wasn't doing his job.
Kane asserts that Beemer signed off on the report from Robert Byer last year that Eakin's emails were did not provide sufficient evidence of judicial misconduct.
As Brad Bumsted of the Tribune-Review points out, relations between Kane and Beemer have been frayed for quite some time.
Beemer testified against Kane during the investigation into whether she leaked grand jury information. He defended James Barker and asked to be fired instead, yet the AG chose to expel Barker anyway. Finally, Kane transferred control over personnel matters from Beemer to her Chief of Staff Jonathan Duecker despite sexual harassments claims made against Duecker.
At the moment, Kane is releasing all of Eakin's questionable emails.