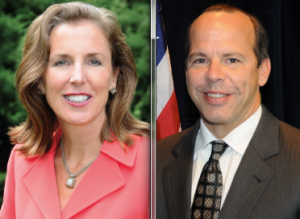 "Money is the mother's milk of politics," Jesse Unruh once said and it could make the difference the contentious battle for Democratic Party Chair.
In this case, the issue is lack of money. With incumbent chairman Jim Burn battling against Tom Wolf's choice Katie McGinty, some Democrats who back McGinty are citing Burn's lackluster fundraising efforts.
"It's deeply concerning that the state Democratic party's coffers are shrinking at a time when they should be growing," said one Democratic insider. "The fact that the party is struggling to keep pace with their expenditures at this critical time does not bode well for November."
In both federal and state funds, the party has significantly less cash on hand at this point in time than it did four years ago heading into the 2010 midterm elections.
Back in 2010 the party had $422,390 in federal COH and $206,970 in state COH. This year, the Democratic party has $256,115 in federal cash on hand and $97,223 in state funds.
Through January to April 2010, the party had raised $1,118,990 yet at the end of April of this year they have raised just $595,473 over the same time span.
Several Democrats who support McGinty said the Chairman was a major reason for these declining numbers. Wolf's campaign did not respond to a request for comment. Neither did Burn.
Burn supporters – and several independent observers – note that there are some significant differences between 2010 and this year. Four years ago, the party had an incumbent Governor in Ed Rendell and a state House majority. Both provide big boons for fundraising.
Nonetheless, the McGinty camp is lobbying state committee members and making that case that their candidate will do a better job when it comes to fundraising.
Burn has his supporters as well. Currently, he holds a large lead in our reader poll, indicating he still has a base of support.
On the whole, though, while many party insiders lavish praise on Burn few offer any concrete words of support. They don't want Burn to be seen as fired or ousted but also want the gubernatorial nominee to have the candidate he wants.
From elected officials as high as Wolf's running mate Mike Stack, to lower-level party members, there seems to be a widespread hope that a conflict can be avoided. Left unsaid is the increasingly apparent likelihood that Burn would have to step aside for this to occur.