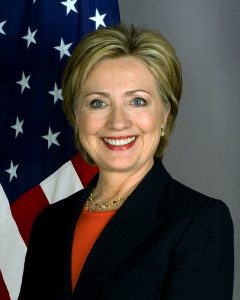 Just days before voters go to the polls, a new survey finds a split result.
The latest Muhlenberg/Morning Call poll, shows Hillary Clinton and Pat Toomey leading their respective races.
Clinton holds a 48% to 42% advantage over Donald Trump in a two-way race. When Gary Johnson and Jill Stein are added, Clinton is ahead 44% to 40%. Johnson and Stein get 7% and 2% respectively.
Last month, those leads were five and six points.
In the Senate race, Sen. Pat Toomey got great news as they found he had a one point lead of 43% to 42%. This is the first survey to show the Republican ahead since a Quinnipiac poll in mid-October.
The previous Muhlenberg/Morning Call survey had Toomey and McGinty tied.
They also found all four candidates have terrible favorable/unfavorable splits. Clinton got a 35/60 split while Trump's was 34/61. The Senate candidates didn't do much better. Toomey recorded 33/41 favorable/unfavorable ratings against McGinty's 31/46.
Finally, Muhlenberg/Morning Call provided crosstabs of the presidential race which are presented below: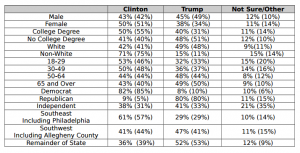 The Morning Call/Muhlenberg Poll was conducted by Muhlenberg University from October 30th to November 4th. They surveyed 405 likely Pennsylvania voters. The margin of error is +/- 5.5%.