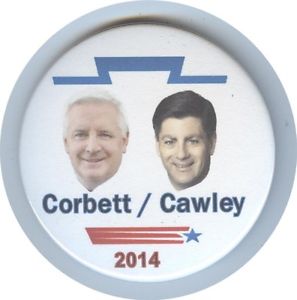 Although polls have not been kind to Tom Corbett as of late, the governor filed his petition signatures yesterday and the large amount alluded to widespread support for the incumbent.
Both Corbett and his Lt. Gov. Jim Cawley amassed over 50,000 signatures between the two of them, with Corbett receiving a whopping 27,747 signatures and Cawley receiving 26,680. Governor Corbett received more than 100 signatures from 50 different Pa. counties, and he made sure to get at least one signature from every county in the state.
To be placed on the ballot for the May primary, it was only required of Corbett that he receive 2,000 signatures, and 100 signatures or more had to come from 10 different counties. Corbett vastly exceeded those requirements.
"Over the last three years, we have kept our promises and put Pennsylvania on the path to a brighter future by reforming Harrisburg, keeping taxes low and creating more than 150,000 private sector jobs. I am humbled by the tireless commitment of our grassroots supporters who showed their enthusiasm for our campaign and are working to give us four more years to continue fighting for our agenda of 'More Jobs, Less Taxes.' It has been an honor to serve the people of Pennsylvania and I look forward to the bright future that lies just ahead for our Commonwealth," said Corbett.
Cawley was only required to amass 1,000 signatures with 5 counties contributing 100 or more to that grand total. Like Corbett, Cawley exceeded expectations.
"Pennsylvania is stronger today because of the tough decisions Governor Tom Corbett made to put us back on a path towards prosperity and I look forward to serving with him a second term," Cawley said. "Pennsylvanians can't afford to return to the tax-and-spend policies our opponents support and I am confident that voters will soundly reject their attempts to bring the Obama-style, big government agenda to Harrisburg."
This type of grassroots support for the Corbett/Cawley team bodes well for them going forward. For Corbett, his total is the most impressive governor signature showing to date, as it even comes out ahead of Allyson Schwartz's 22,000 signatures, and Jim Cawley's total dwarfs anything that the other Lt. Gov. candidates have been able to do produce thus far.
Corbett will face Bob Guzzardi in the Republican primary in May, if Guzzardi survives any petition challenge that may come his way. Jim Cawley is running unopposed as of right now.