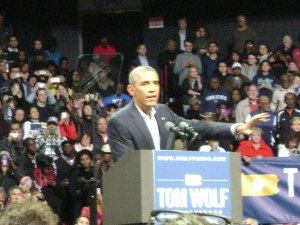 The election is just hours away and the Wolf campaign brought in its biggest gun.
Governor Corbett is hoping it backfires on him.
Last night, President Barack Obama visited Temple University in Philadelphia to campaign for Tom Wolf.
The basketball court setting of The Liacouras Center was curtained off into a concert setup but the attraction filled the available space with an estimated 5,500 people attending.
While Wolf was the one with his name plastered everywhere, he readily admitted (as he has in the past) that he wasn't the one everyone had come out to see. The candidate also delivered a fairly short speech.
Wolf was preceded by Senator Bob Casey, Mayor Michael Nutter (who was heavily booed), FreshStartPA Chair Katie McGinty and Lt. Governor nominee Mike Stack.
The President was clearly the main event, though, and received a raucous reception from the crowd.
Pres. Obama used his time to talk up Wolf and his background.
"First of all, Tom is just a nice guy," he said. "You can tell he's a sincere person. He's not a professional politician. He's in it for the right reasons. You know he's going to do a good job."
"As a successful businessman, Tom helped grow his family's company into the largest supplier of kitchen cabinets in the United States," the President continued. "Now, there are a lot of kitchen cabinets in the United States, so — I'm just saying. You think about how many kitchen cabinets there are. If you're the largest, that's a lot of kitchen cabinets."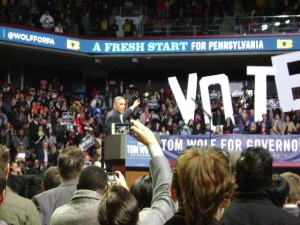 The President's main focus, though, was on the importance of voting and getting people out to vote. While stressing this point, members of the crowd held up their giant "V-O-T-E" letters causing the President to turn around and use the backdrop for emphasis.
"Can I just say, by the way, it took me forever to cut those letters out," he joked.
This event is the last for the President in this campaign cycle. Given his low approval ratings in the state, it came as a bit of a surprise that the Wolf camp would want him. In fact, the Corbett-Cawley team has already gone to lengths to try and hammer Wolf on his association with the President.
The answer may come from a recent report from the Inquirer's Thomas Fitzgerald. Apparently, Wolf refused to provide the city's ward leaders with a requested $340,000 in "street money."
The Presidential visit, therefore, can be seen as Wolf's own way to juice turnout in Pennsylvania's largest city. We'll have to wait until Tuesday to see if it works.