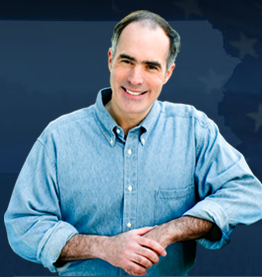 Yet another new poll in the U.S. Senate race, but this one shows that Sen. Bob Casey maintains a healthy lead over Tom Smith, 50 percent to 39.
The survey of 500 likely Pa. voters showed the President at 51 percent to Romney's 44 percent, 5 points narrower than his 52 percent to 40 lead in September.
The poll was conducted Oct. 12-14 via automated telephone interviews; the margin of error is plus or minus 4.4 percent. 48 percent of respondents identified as Democrats and 37 percent as Republicans.
Casey's campaign immediately emailed the numbers to reporters, just as Smith's campaign emailed reporters about this Morning Call poll which showed Casey just 2 points ahead of Smith.
What's the difference? The PPP poll apparently made it much harder for voters to be undecided than the MCall poll did; just 11 percent of respondents were undecided in the PPP poll compared to 20 percent in MCall.
Casey is leading by a double-digit margin among women (50 percent to 35), single digits among men (50 percent to 43) and 8 percent among independents (44 percent to 36).
One potential problem for the first term Senator? Low job approval numbers. The pollster wrote: "Pennsylvanians continue to be closely divided on Casey's job performance with 37% approving of him to 39% who disapprove. That's largely because he's at only 58% approval with Democrats, but even though they're not necessarily thrilled with Casey most of them are still planning to vote for him."
Both candidates must work to define themselves. 24 percent didn't know enough to express an opinion on Casey's job performance; likewise 31 percent don't know enough about Smith. Of those who do, Smith's numbers are unfavorable, 36 percent to 33.