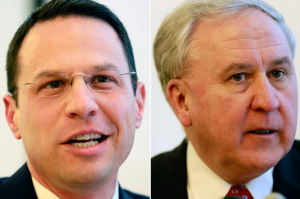 As you might have noticed, incumbent Attorney General Kathleen Kane is in a bit of trouble.
As a result, she decided not to run for re-election and Democratic nominee Josh Shapiro and Republican nominee John Rafferty are seeking to replace her.
Just like the Presidential and Senate contests, we're going to be doing periodic polls of our readers to see how (or if) this race changes.
So how about it dear readers? Which candidate are you currently in favor of?
If the Attorney General Contest Was Held Today, Who Would You Vote For?
John Rafferty (55%)
Josh Shapiro (45%)

Loading ...