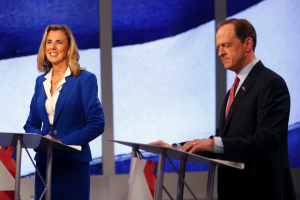 Katie McGinty: 1 Pat Toomey: 1
That's the scoreboard after two of our reader polls this year.
McGinty won in May by a 52% to 48% margin. In September, Toomey took their second match-up 53% to 47%.
In the aftermath of their first debate, we thought now would be the best time for the rubber match.
So what do think? Who will be the victor on the morning of November 9th?
If the Election Were Held Today, Would You Vote For Katie McGinty or Pat Toomey?
Pat Toomey (52%)
Katie McGinty (48%)

Loading ...