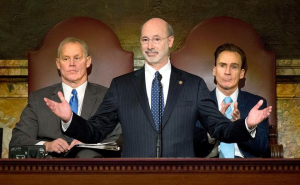 2015 is a year Pennsylvania and its political observers won't soon forget (but more on that later).
Still, only one can take home the "award" for worst 2015. There are a number of contenders.
Governor Tom Wolf and Speaker Mike Turzai have each been unable to get a budget in place nearly a year into their tenures.
Ed Pawlowski and Michael Eakin both found themselves in legal trouble while Kathleen Kane simply defied description.
So we leave the question up to you our readers. Which elected official who is still in office (sorry Rob McCord) had the worst past year?
Which Elected Official Had the Worst 2015?
Kathleen Kane (65%)
Mike Turzai (13%)
Tom Wolf (11%)
Ed Pawlowski (6%)
Michael Eakin (5%)

Loading ...