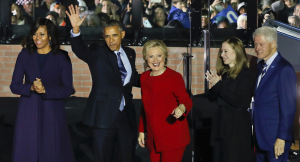 To gather our credentials and enter Independence Mall, the press had to pass by the grave of Benjamin Franklin which sits alongside Arch St.
Once there, you're given an impressive view of Independence Hall, the Liberty Bell and the Constitution Center.
Over the course of the evening, we saw an all-star line-up: Jon Bon Jovi, Bruce Springsteen, Chelsea Clinton, Bill Clinton, Michelle Obama, Barack Obama and Hillary Clinton.
It's altogether fitting that the Clinton campaign would hold this particular event here, given it's importance to both President Obama and his chosen successor.
From the stage, speakers could turn one way and see Independence Hall aglow or turn another way and see the Constitution Center in the distance. It was there that Obama gave the greatest speech of his life and revived his candidacy eight years ago.
Five and a half years later, Clinton made it clear she would stay in the arena as she accepted the Center's Liberty Medal from the man, Jeb Bush, who she expected to be run against in 2016.
A few miles down I-95 is the Wells Fargo Center, which hosted the Democratic National Convention in July.
As I wrote back then, the destinies of the Clintons and Obamas are now intertwined. Instead of fighting his 2008 primary challenger for the soul of their party, Barack Obama choose a merger and made Hillary Clinton his Secretary of State. Bill Clinton was vital to Obama's successful re-election and now the popular incumbent is passionately working to insure Clinton's victory.
This was clearly evident on the night of the President's DNC address when he "passed the baton" to Clinton, who made a surprise appearance, literally and figuratively embracing him. 
On Monday night, Philadelphians stood in lines for miles to get the chance to see the two together again alongside their families. Many never made it to the mall, which hosted an estimated 33,000 ecstatic (if freezing) spectators.
The crowd nearly doubled the Clinton campaign's previous record of 18,000 in Columbus and surpassed Trump's 28,000 turnout in Mobile.
Chelsea and Bill Clinton were low-key in the hopes of not overshadowing the nominee, as well as the President and the First Lady.
Michelle Obama stridently urged the thousands in attendance, and the untold more watching on TV in prime-time, to support Hillary Clinton
"Tomorrow, with your vote, you can stand up to those who seek to divide us and make us afraid. You can declare with one voice that we are always stronger together," she stated. "Tomorrow, with your vote, you can say that this country has always been great, that it is the greatest nation on Earth."
She then introduced her husband, who took a page from Bill Clinton's playbook and argued that the Democrats are the more responsible and productive party.
"In fact, because Bill Clinton is here, I did some math — a little arithmetic," President Obama stated. "Under the last two Republican Presidents, job growth was basically flat. Deficits went up.  Over our two Democratic presidencies, jobs went up by more than 30 million, deficits went down, millions more Americans gained health insurance. So, yes, with Democrats in charge, America is stronger."
It was a rare partisan argument from the 44th President, although it makes perfect sense when you remember the night was a celebration of the union between the Democratic Party's two first families.
The President finished, however, with an argument fitted to the locale.
"Philadelphia, in this place where our founders forged the documents of freedom, in this place where they gave us the tools to perfect our union, if you share my faith that I ask you to vote, if you want a president who shares our faith in America, who's lived that faith in America, who will finally shatter a glass ceiling and be a president for each and every one of us, then I am asking you to work as hard as you can this one last day to elect, my fellow Americans, this fighter, this stateswoman, this mother, this grandmother, this patriot, our next President of the United States of America, Hillary Clinton!"

Like those before her, the Democratic nominee noted that America "started right here in Philadelphia. When representatives from 13 unruly colonies came together to launch the greatest experiment the world has ever seen."
"I also want you to know I will be a president for all Americans, Democrats, Republicans, Independents, not just the people who support me in this election, everyone, because I believe we all have a role to play in building a better, fairer, strong America, building on the progress that we have enjoyed under President Barack Obama over the last eight years," she continued. "I am not going to let anybody rip away the progress we have made and turn the clock back, sending us back in time where people are free to question the foundation of our country, what our founders here did. They did not agree on everything in case you haven't remembered. There were lots of contentious arguments. But they saw a higher purpose. And they came together. That's what I want us to do. And we can take the first step tomorrow. Please make a plan to vote. Pennsylvania, it all happens tomorrow."
"Years from today, when your kids and grandkids ask what you did in 2016, when everything was on the line, I want you to be able to say that you did vote," she concluded. "You voted for an inclusive, big-hearted, open-minded country future that will make sure that we all keep moving together because I do believe we are stronger together; and you voted for an America where we build bridges, not walls; and, maybe most importantly, you voted in great numbers to demonstrate conclusively, once and for all, that, yes, love trumps hate."
It was an electric night that filled the faithful with hope. The real story, though, struck you when considering the historic implications of the moment. The nation's first black President was "passing the baton" to perhaps our first female President.
It was a moment made possible by the white men who centuries ago debated the issues of their time in that illuminated hall. Only the greatest of them could even have the capacity to imagine such a day would be possible.
Back in 1787, survival was the concern of the nation.
While once again walking past the grave of Benjamin Franklin, my mind wandered back to a seemingly apocryphal story about his reaction to the new Constitution. It turns out, though, that it comes from the notes of North Carolina delegate James McHenry so it may very well be true.
At the close of the Constitutional Convention, Franklin was approached by a woman.
"Well, Doctor, what have we got—a Republic or a Monarchy?"
"A Republic," Franklin replied. "If you can keep it."