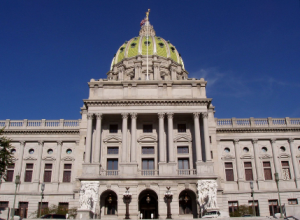 Big names enter statewide races, a former VP makes an endorsement and third party candidates try to get on the ballot. Check back later for this week's Ups and Downs. Good morning politicos, here's the Buzz.
Jay Paterno To Run For Lt. Gov.: Famed college football coach Joe Paterno's son launched a bid for Lieutenant Governor.
PA-Gov: Wagner to Enter Democratic Primary: Former Auditor General Jack Wagner is gathering up petitions to enter the race for Governor.
PA-Gov: McCord Swipes at Wolf's $10M, Corbett's "Intellectual Rigor": In what has been so-far a clean primary, some of the first shots were fired today.
PA-Gov: Al Gore Endorses Katie McGinty: The former Vice President endorsed his former staffer today in her race for Governor.
Corbett Launches First Re-Election Ad: Governor Tom Corbett says that he will continue to make Pennsylvania's government more efficient in his new commercial.
Schwartz Unveils Policy Platform for Seniors: Plan would institute a $100 million rebate for Pennsylvania seniors.
PA-Gov: Wolf Releases Radio Ad in Wake of Corbett Attention: By our calculations, this is Wolf's sixth campaign ad so far, but his first on radio.
Libertarian Ken Krawchuk Announces PA-Gov Bid: A third party candidate for governor will attempt to get on the ballot.
PA-6: ChesCo GOP Backs Costello: The Chester County GOP announced their support for the only Republican candidate running for the seat.
PA-10: Independent Announces Exploratory Committee: Independent Nick Troiano is launching an exploratory committee to run for Congress.
PA-15: Dent Gets Democratic Opponent: David Clark declared his intentions to run for Congress as a Democrat in PA's 15th district.
Legislative Elections Update:
Chester County GOP: The Chester County Republicans endorsed Rep. Joe Pitts, Cuyler Walker for HD-158, Ryan Costello for PA-8, and Ted Leisenring of Willistown fell just one committee person vote short of gaining the official party endorsement over incumbent State Rep. Duane Milne for the 167th District seat.
SD-28: York City Council president endorsed Democrat Linda Small for the PA Senate 28th district seat today. Small is running in the special election for the seat on March 18th, 2014.
HD-53: Democrat Dottie Miller announced her candidacy for this seat. Miller serves as president of Local 1937 Office and Professional Employees International Union and is a laboratory services coordinator at a local pharmaceutical company. HD-53 has been held by Rep. Robert Godshall since 1983.
HD-92: Rep. Mike Regan (R-York) announced his bid for a second term. His district covers portions of Northern York County and Monroe Township in Cumberland County.
Statewide
Capitolwire: Corbett's Healthy PA Medicaid waiver submitted to feds
Capitolwire: Bureaucratic red tape blamed for lag in tavern gaming applications
Capitolwire: PASSHE Chancellor Brogan says PA needs to rethink its higher education system
Capitolwire: Corbett's welfare fraud savings claim relies largely on assumed savings
PA Independent: PA liquor stores still in limbo as privatization debate swirls
StateImpactPA: Pa. attorney general investigating complaints against Chesapeake Energy
StateImpactPA: Report: Halliburton waste violations could warrant criminal investigation
Philadelphia
Daily News: Jack Wagner running for Guv, former aide says
Daily News: Council, ethics board differ on gift ban limit
Inquirer: Write-in candidate accused of vote tampering
Inquirer: Nutter veto overridden, bills he opposes passed
Inquirer: Two new names – Wagner, Paterno – in top Pa. races
Inquirer: Green's first SRC meeting: High drama, big plans
Philly.com: Council bids adieu to Bill Green
Philly.com: Councilman Greenlee proposes bill prohibiting e-cigarette sales to minors
SEPA
Courier-Times: Schwartz backs opponents of trade deal 'fast track'
Courier-Times: Lower Makefield to deny building permits to Toll Bros.
Courier-Times: Property tax/rent rebate applications available
Montgomery Media: Montgomery County Department of Commerce director touts economic development initiative
Montgomery Media: First Savings Bank in Perkasie secures grant for Habitat for Humanity of Bucks County project in Sellersville
Montgomery Media: Report: Montgomery County high quality early care programs lacking
Pittsburgh
WTAE: Questions about Peduto pick to oversee building inspections
Tribune Review: Jay Paterno: Lt. governor bid about 'standing for something'
Tribune Review: Rendell seeks to 'set the record straight' about Corbett budget deficit
Tribune Review: Deleted Pennsylvania emails may number million; cover-up denied
Tribune Review: North Allegheny school board OKs altered school boundaries
Post-Gazette: Peduto fills five more key positions
Post-Gazette: Bios of Mayor Peduto's picks to head four city departments
Early Returns: Jack's back
Southwest
Beaver County Times: Report: 70 percent of Pa. children can't access preschool
Beaver County Times: Fingerprint time clocks being installed for Beaver County buildings
Beaver County Times: Beaver County pension fund had $6M slip in January
Observer-Reporter: Ringgold teachers show solidarity during contract talks
Altoona Mirror: Long-awaited Veterans Court ready to get underway in Blair
NEPA
Citizens Voice: Luzerne County Council stands by decision for executive session
News Item: Local municipalities consider study on consolidating police forces
Times Leader: Campaign finance website redesigned
Times Leader: Four Luzerne County managers will keep their jobs
Times Leader: Pluses, minuses seen in creation of bigger Blue
Times Leader: Kane, Hazleton chief hail success
Times Tribune: State Insurance Department begins review of Blue Cross of NEPA, Highmark agreement
Times Tribune: Scranton eyes state grant to help curb backlog of Right-to-Know Law requests
South Central
Harrisburg Patriot News: Mike Regan seeks re-election in 92nd District
Harrisburg Patriot News: Jay Paterno confirms he's running for lieutenant governor
Harrisburg Patriot News: Rising prison costs spell trouble for Corbett's signature reform
Harrisburg Patriot News: Pa. Democrats roll out website bashing Corbett's budget, education cuts
York Daily Records: What did Dallastown Area High students ask Tom Wolf?
Lancaster Intelligencer/Era: Pa. education secretary Carolyn Dumaresq addresses concerns over pensions, snow days
Lancaster Intelligencer/Era: Womble: Denlinger should drop out of state Senate race
Lancaster Intelligencer/Era: Ephrata Democrat will run on 'working class values' in the 99th District
Lehigh Valley
Morning Call: New PA law to loosen shipping rules for small distillers
Reading Eagle: Pitts announces bid for 10th term in Congress
AP: Jay Paterno to run for lieutenant governor nomination in Pennsylvania, Democratic officials say
North by Northwest
Campaign '14 Blog: Hanger to visit Erie on Sunday
Erie Times-News: Dahlkemper proposes filling four Erie County positions
Centre Daily Times: Jay Paterno seeking election as Pa. lieutenant governor
Onward State: Congressman Ron Paul, Journalist Carl Bernstein to Square Off in Campus Debate
Williamsport Sun Gazette: Mayor seeks expansion on redevelopment farther east
AP: Governor waits to learn fate of Medicaid plan
Opinion
Observer-Reporter: Chevron's solution: 'Let them eat pizza'
Times Leader: Dealers charged; so now what?
Harrisburg Patriot News: For Pa. Republicans, this Tea Party feud is all in the family
Morning Call: Ironworkers iron fist approach needed to deal with drop in union membership
Inquirer: Inquirer Editorial: Cash can defeat democracy
Daily News: DN Editorial: Keeping abreast
Blogs
Above Average Jane: Kelly Green New Montco Voter Services Director
Above Average Jane: Democratic Candidate for 7th Congressional District
Above Average Jane: Nutter on National Obamacare Call
Above Average Jane: Corbett Commercial: It's A Man's World
Commonwealth Foundation: Big Labor's Billions Targeting PA
Keystone Politics: #PAGov: How You Know Tom Corbett's Not Serious About His CorbettCare Plan
Keystone Politics: #PAGov: Jack Wagner's Plan
Keystone Politics: #PAGov: Do the Democratic Candidates Support Bill Peduto in the PUC Fight Over Lyft?
Keystone Politics: #PAGov: Al Gore Endorses Katie McGinty
Lehigh Valley Ramblings: Brown Right To Fire Mancini