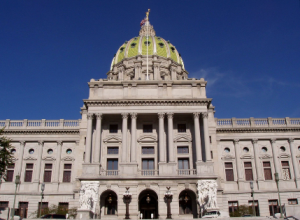 It was a big weekend for conservatives at PLC. See how Toomey did post-gun bill. And – surprise! – Joe Sestak raised $460,000 last quarter. Good morning politicos, here's the Buzz.
He's Back: Sestak Raises $460K in Q1: In a below-the-radar effort, former Congressman and Admiral Joe Sestak raised over $460,000 in the first three months of 2013. It's the first firm indication that he seeks to run for office in the near future.
Toomey Plays Makeup with PA Conservatives: After weeks of criticism and a failed vote in the U.S. Senate, Pat Toomey told a crowd of conservative activists that he was pulling back from the gun issue and returning to economic issues.
4/19 Ups & Downs: It's been quite a week politicos, and in light of depressing events we present a list of all Ups.
Isenhour Joins Wolf for Guv Campaign: Prominent Democratic strategist Mary Isenhour will advise Tom Wolf in his run for Governor, she told PoliticsPA Friday.
PAGOP Taps Bozzuto for ED: With its immediate past director on his way to manage Tom Corbett's re-election campaign, the Pa. Republican Party has chosen Bob Bozzuto as its new Executive Director.
Reader Poll: Does Background Check Saga Help or Hurt Toomey for 2016? Sen. Pat Toomey has been on the forefront of the background check issue for weeks as he and Sen. Joe Manchin (D-WV) pushed legislation that was ultimately unsuccessful.
Reader Poll: Arkoosh for Congress in PA-13: Physician and activist Valerie Arkoosh should be Democrats' choice for Congress in PA-13, PoliticsPA readers voted this week.
Statewide
State House Sound Bites: Toomey strikes conciliatory, final note on gun debate
PA Independent: PA funeral regulations struck down as 'protectionist regime,' but appeals continue
PA Independent: Toomey hopes to "agree to disagree" with conservative base on gun issue (Video)
PA Independent: Corbett to state Senators: Pass liquor bill by June 30 (Video)
StateImpactPA: Possible Explosive Devices Found At Two Gas Drilling Sites
StateImpactPA: DCNR Agrees to Discuss Drilling in the Loyalsock State Forest
Capitolwire: Toomey, fresh off gun control debate, addresses PA conservatives
Capitolwire: Leach offers Corbett list of 5 confirmable GOP judges for Supreme Court vacancy
Capitolwire: Film Tax Credit rescue too late to save Captain America
Capitolwire: Job search requirements for unemployment benefits approved
Philadelphia
Inquirer: Defense set to begin in Gosnell trial
Inquirer: Will Castor mount a challenge to Corbett?
Inquirer: Montco-raised tycoon's $300M China scholarship
Inquirer: Hundreds of marijuana smokers gather at Liberty Bell to celebrate '420'
WHYY Newsworks: Move to put PennDOT in charge of turnpike gains support
WHYY Newsworks: Toomey unlikely to push for expanded background checks again
WHYY Newsworks: Philly official dubs investors conference a 'success'
WHYY Newsworks: Philly sheriff says more deputies needed for new courthouse
WHYY Newsworks: PA Senate backs stricter rules on reporting campaign funds
CBS3: MontCo volunteer fire department to collect donations for Boston victims
SEPA
AP: Pa. governor helps plant trees at Flight 93 site
AP: Pa. Sen. Toomey defends support of gun restrictions
AP: Pa. labor force falls biggest amount in 30 years
AP: Hazleton low on funds to defend immigrant law- Laura
AP: Pa. conservatives gathering for annual conference
AP: Lawmaker: Pa. schools should have injectors
AP: Congressmen visit Ark. Oil spill cleanup site
AP: Philly bill would require gender-neutral restrooms
AP: Bill: Pa. lawmakers should chart tax-exempt status
AP: Treasury holds up payment on Pa. website contract
Pittsburgh
Tribune Review: Wheatley mayoral campaign gets endorsement of black community leaders
Tribune Review: Connellsville mayor, council candidates ready for forum
Tribune Review: 8 vying for Democratic nomination for Fayette County treasurer
Tribune Review: Two gas companies to fix pollution issues in Washington County
Tribune Review: Toomey says gun proposal well-intended
Tribune Review: Governor: Bombings are a reminder to be vigilant
Post-Gazette: What Pat Toomey's bipartisan work on background checks could mean for him
Post-Gazette: Pittsburgh politics: Wheatley gets African-American support
Post-Gazette: Realty fight reflects Strip District change
Post-Gazette: Bill would shift Pennsylvania tax exemption dynamic
Post-Gazette: Governor presents trees at Flight 93 memorial
Post-Gazette: Pennsylvania's unemployment rate dropped slightly in March
Post-Gazette: Mayor hopefuls wooing blacks; coalition to choose its candidate today
Post-Gazette: Pittsburgh Mayor Ravenstahl takes backseat, leaves driving to others
Early Returns: Steelers, Penguins CEOs for Wagner
KDKA: Former Police Chief Harper To Plead Guilty
KDKA: Changes In Voting & Registration Could Be Coming Soon
KDKA: State Senators Propose $100 Surcharge On Moving Violations
WTAE: Arrest comes as attorneys general, Facebook team up for Internet safety
Southwest
AP: Congressmen visit Ark. oil spill cleanup site
AP: Residents leery of plan to reopen western Pa. mine
AP: Pa. wind energy soars in 2012, but total is small
AP: Lawmaker: Pa. schools should have injectors
AP: Philly bill would require gender-neutral restrooms
AP: Pa. rail museum to build $6.1 million roundhouse
AP: Toomey defends expanded background checks
Beaver County Times: Patterson Heights officials deny rumor of disbanding road department
Beaver County Times: Borough to repay bond with shale lease funds
Beaver County Times: Former Aliquippa candidate charged with perjury
Observer-Reporter: City Council ballot appeal working through court
Observer-Reporter: Corbett helps plant trees at Flight 93 site
Altoona Mirror: Tally for dispute nears $50,000
Altoona Mirror: Toomey's gun bill rejected
Altoona Mirror: Housing authority accused of hypocrisy
Johnstown Tribune-Democrat: Familiar names back in mix for City Council seats
NEPA
The Times Leader: Rossi announces run for Luzerne County Council
The Times Leader: Deadline to register to vote in primaries is today
Times-Tribune: Millions of dollars being invested in Scranton's three hospitals
Times-Tribune: Stakes high in North Pocono contract negotiations
Times-Tribune: Candidate profiles: Four seek Democratic nod for register of wills
Citizens Voice: County to examine rejoining black-fly program
News Item: LATS: BUS BILLS DON'T ADD UP Discrepancies led to falling out with King Coal Tours
News Item: PennDOT made aware of LATS issue; awaits details
News Item: LATS cost comparisons
News Item: Scott Anderson seeks Democratic nomination for Shamokin council
News Item: Brecker is Democratic candidate for Mount Carmel Area School Board
Wayne Independent: DEP comment period extended to June 3
Pocono Record: Monroe waste authority a mix of law enforcement and conservation
Pocono Record: Stroudsburg Area School District energy projects could save $7M
Lehigh Valley
Reading Eagle: District judge candidate in Muhlenberg Township cites increase in crime
Express Times: Pennsylvania legislator wants to require schools to have EpiPens
Express Times: Pennsylvania's number of unemployed drops 20,000 in March, largest monthly decrease in 30 years, state says
South Central
York Dispatch: South Eastern OKs 1.25 percent school tax hike
York Dispatch: Crackdown reaps $1.7M in overdue payments for York
Intelligencer/Era: State railroad museum in Strasburg to build $6.1 million roundhouse
Intelligencer/Era: Lancaster gun show draws a crowd, opinions
Intelligencer/Era: East Hempfield zoners seek more sign info
Intelligencer/Era: City proposes right-of-way fees for utilities
Lebanon Daily News: Judge sides with sons about Jim Thorpe's remains
North by Northwest
Centre Daily Times: Colyer Lake supporters searching for funds to fix deficient dam, save lake
Williamsport Sun Gazette: Troubled Waters
Opinions
National Review: Quakers and Bootleggers
Observer-Reporter: Homelessness a problem in our hometowns
Post-Gazette: Turnpike tumor: Fold the toll road operation into PennDOT
York Daily Record: Sadly, Toomey's gun proposal passes for political courage
Intelligencer/Era: The educational testing challenge
Pottstown Mercury: Gun control bill's defeat is cause for shame
Pottstown Mercury: Pennsylvania laws on political gifts woeful
Delco Daily Times: Editorial: Pa. must steer funds to roads, bridges
Delco Daily Times: Corbett must heed health care chorus
Bucks Local News: GUEST OPINION: U.S. Senator Pat Toomey Showed Courage
Reading Eagle: Reading cannot continue without fiscal constraints
Reading Eagle: Toomey shouldn't stop trying to reach across the aisle
Express Times: National debate on background checks is far from over
Blogs
Pittston Politics: Blogfest another hit, Lt Gov candidates make an appearance
Pittston Politics: Donovan debacle rears it head again a PA meeting
Pittston Politics: OPEN FORUM: What are the issues in WA race?
Pittston Politics: Singer's fundraiser a success
Pittston Politics: Qiana takes shot at two opponents