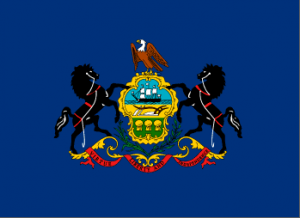 Hillary opens up a double-digit lead on Trump, McGinty moves ahead of Toomey and the York Dems need a new candidate. Good morning politicos, here's the Playbook!
F&M Poll: Hillary 49% Trump 38%: The latest Franklin & Marshall survey shows the Democratic nominee getting a convention bounce.
HD-95: Schreiber Out of 2016 Race, York Dems Seek New Candidate: The York Democratic Party are literally taking resumes, if you're interested.
PA-Sen: F&M Poll: McGinty 39% Toomey 38%: The Democrat continues to rises in the latest polling.
F&M Poll: Obama's Approval Rockets to 52%: The President's approval rating improves by ten points.
Statewide
Capitolwire: Auditor General says PDE does nothing about questionable charter school lease reimbursements
PA Watchdog: Pittsburgh charter to serve students with dyslexia
PLS Reporter: Voter registration increases by over 250,000 in last year
PLS Reporter: Women in Pennsylvania Government: Rep. Mauree Gingrich (R-Lebanon)
PLS Reporter: Department of Health selects medical marijuana program director
StateImpactPA: Spectra expects to pay $100 million after pipeline blast
StateImpactPA: Attorney General reaches agreement with XTO over criminal charges
StateImpactPA: Whose gas is it anyway?
State House Sound Bites: Lengthy negotiation over state worker contracts is–tentatively–finished
State House Sound Bites: Schreiber drops out of House race, York Dems scramble to fill slot
State House Sound Bites: PA poll shows tight race between Toomey and McGinty
Philadelphia
Philadelphia Business Journal: two days with DNC Delegate John Cordisco
Philadelphia Business Journal: A challenge: Brand the new Philly
Philadelphia Business Journal: Leader named for Pa. medical marijuana program
Inquirer: Bill would shield 'Good Samaritans' who rescue kids left in cars
Inquirer: Contract talks reach tentative deal for 40K Pa. workers
WHYY Newsworks: DePasquale: Pa. Department of Education negligence is wasting money
SEPA
Pottstown Mercury: Pottstown names Keller assistant borough manager
Pottstown Mercury: Chester County launches Operation Fraud Guard
Pottstown Mercury: Royersford Borough Council member to denounce Trump
Pottstown Mercury: Prosecutors to Kane: 'Now is the time for trial'
Delco Daily Times: U.S. Senate hopeful McGinty ties Toomey to 'The Donald' in Delco
Delco Daily Times: Delaware County Council approves grant to monitor Zika virus
Pittsburgh
Tribune-Review: Experts: Single juror could net mistrial for Pa. Attorney General Kane
Tribune-Review: Justice Department, Consol have deal to settle suit over water pollution
Tribune-Review: Tarentum manager disagrees with ethics commission fine
Post-Gazette: Nationwide, Pa. polls show Clinton rising in key state
Post-Gazette: Pennsylvania names first director of medical-marijuana office
KDKA: New Poll Shows Clinton With 11-Point Lead Over Trump In Pa.
WTAE: Feds, Pennsylvania settle Consol Energy water pollution suit
Southwest
Beaver County Times: Wolf Recognizes gateway rehab for commitment to opioid addiction treatment
Observer Reporter: Consol fined $3M for contaminated discharge from Bailey Mine Complex
Altoona Mirror: Sen. Wozniak will not seek re-election for 35th seat
Tribune-Democrat: Wozniak Withdraws from Re-election Campaign for State Senate
Tribune-Democrat: Local Congressmen, GOP leaders back Trump
NEPA
Times Leader: State Sen. John T. Yudichak: New tax credit will help to clean land and create jobs in Pennsylvania's coal regions
Times Leader: With exceptions, Luzerne County school union contracts look strife free
Times Tribune: Jermyn hires new solicitor
Times Tribune: Prosecutor asks Supreme Court to reject Kane motion to dismiss/delay trial
Citizens Voice: Ex-Newport Twp. manager charged with theft
Citizens Voice: Auditor general: Charter lease reimbursement still an issue
South Central
Patriot Times: Potassium iodide pills distributed Thursday
Patriot Times: Cumberland County among top 10 nationally in warehouse job creation
Carlisle Sentinel: Sick dog inspires new animal cruelty bill
Carlisle Sentinel: Carlisle accepts $5M in federal funds for road revamp
York Dispatch: York County sees an 'outpouring' of community support for police
York Dispatch: Eastern York district's fund balance down 71 percent
Lancaster Era: Weis appeals Lancaster Township's denial of liquor license transfer for beer cafe at Manor Shopping Center store
Lancaster Era: Some concerned about LGH's proposed 126-bed psychiatric hospital in Lancaster
Lehigh Valley
Morning Call: Kathleen Kane: Fracking company to pay $400K over wastewater leak
Morning Call: ASD's interim chief lists equity plan, restructuring administration as top priorities
Reading Eagle: 13 private trash haulers in Reading might not be paying business privilege tax, officials say
Reading Eagle: New Berks County chief administrative officer a familiar name
North by Northwest
Centre Daily Times: Moshannon Valley development group gets loan for ex-hospital site
Centre Daily Times: Toll Brothers appeals court decision
Sun Gazette: Council to vote on financing
Erie Times: Erie County searches for Zika virus
Opinion
Pottstown Mercury: Could Pa. decide the next president?
Inquirer: Keep tabs on how Philly soda tax cash is spent
Inquirer: FOP's McNesby a big DNC winner
Lancaster Era: Reinforcing the vital role municipal pools have in our communities
Express Times: Casino bet not paying off for Pa. budget
Sun Gazette: City rental measure passes big federal court challenge
Pittsburgh Business Times: Planning a U.S. exit if your candidate doesn't become president? Here are options
Post-Gazette: Preserving nature: Cataloging grant for Powdermill welcomed
Post-Gazette: Banking on it: Institutional stress test in Europe benefits U.S.
Post-Gazette: Coal-country aid: Struggling communities need Congress to act
Blogs
Citified: This App Fights Hunger in Philly in a Surprisingly Simple Way
Citified: Report: Clinton Considering Nutter for Cabinet Post
Commonwealth Foundation: 5 Reasons To Fear Bigger Tax Hikes in 2017
Keystone Crossroads: Pennsylvania ranks second in landfill trash per capita