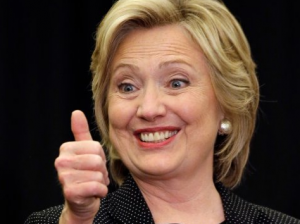 Hillary Clinton's campaign ads are coming to a TV near you.
After much debate over whether the Democratic nominee would spend some cash on the Keystone State, it was announced that they'll be hitting the airwaves.
As reported by Steven Shepard of Politico, the Clinton team will be making PA a part of their $135,000 addressable campaign buy on Dish Network and DirectTV.
"The addressable satellite ads are much more targeted than the campaign's broadcast campaigns," Shepard writes. "Both companies use demographic data to allow advertisers to reach targeted households, rather than spending to reach all viewers of a specific program."
Pennsylvania joins the eight states the Clinton team has been targeting since the start of the general election: Colorado, Florida, Iowa, Nevada, New Hampshire, North Carolina, Ohio and Virginia.

It's worth noting, though, that this campaign will take place from July 13th to 25th in the run-up to the Democratic National Convention in Philly. It is also a very small investment.
The pro-Clinton Super PAC Priorities USA is also scheduled to start airing commercials in the commonwealth on July 5th.

Finally, given two new polls showing Clinton gaining traction over Trump (not to mention the new FiveThirtyEight forecast) it is quite possible this is the full extent, rather than the beginning, of ad money spent in Pennsylvania.
UPDATE: Politico is now reporting that the Clinton campaign has inquired into buying TV time in PA but has not yet made any reservations.