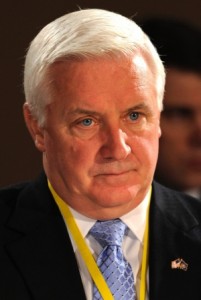 When it rains, it pours.
During this morning's gubernatorial debate, Governor Tom Corbett repeatedly mentioned that 250,000 jobs were available in the Keystone State and they could be found at Jobgateway.pa.gov.
So, the Pittsburgh Tribune-Review's Brad Bumsted decided to look up just what types of jobs were advertised on the site. Turns out a number of racy and questionable postings were included.
Among the job openings were opportunities for exotic dancers, "car dates" and "casting couch openings."
Apparently, the state website aggregates job listings from various sites including Craigslist, where these postings originated. The site does employ a vendor to screen for these sorts of issues, but obviously they didn't do a stellar job.
Additionally, those seeking unemployment benefits have to sign up with the website. In fact, Holly Otterbein of WHYY Newsworks reported in July that 50,000 people had lost their jobless benefits because they haven't signed up.
The whole episode is a major headache for Governor Corbett. He is already dealing with the fallout from the AG emails. Then, this morning he commented in the debate that he "wished" someone had sent him one of the graphic emails. The Gov made it clear he meant this would've allowed him to immediately put a stop to it. Yet that didn't stop the story from growing.
"Tom Corbett has repeatedly insulted Pennsylvanians who are searching for jobs in his failed economy, even saying it is because they are doing drugs," Fresh Start spokesman Mike Mikus said. "He's sunk Pennsylvania from ninth to 47th in job growth and now it is clear that even his much touted website simply does not work as intended."
"Tom Wolf is clearly desperate to change the narrative on his tax-and-spend policies," Corbett-Cawley Communications Director Chris Pack responded. "It is unfortunate that rather than talk about hundreds of thousands of good family-sustaining jobs, Tom Wolf is focusing on a handful of glitches in an algorithm that aggregates hundreds of thousands of jobs from many national employment websites including Monster and Craigslist. It is also worth noting that there is a clear jump page warning that the user is leaving JobGateway and is being transferred to a third party website."
Altogether, this has to be a disappointing day for the Corbett campaign. Instead of capitalizing on his winning first debate performance, the day has been spent on distractions. As a result, the Governor has watched a key opportunity to gain in the polls go by.