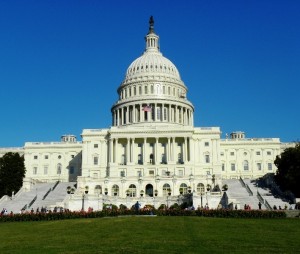 Nine months ago, when PoliticsPA last took a comprehensive look at which of Pennsylvania's congressional seats are vulnerable to a party switch, we lamented the weak state of inter-party competition for U.S. House seats.
Today, in some ways, the degree of competitiveness in the Pennsylvania congressional landscape has receded even further. A stunning seven out of 18 congressional districts in the state don't even have candidates from both major parties running in the fall. For these seats, the primary has already determined who will win in November.
Back in the halcyon days of Keystone State competitiveness – 2010, when we published our inaugural rankings – we found no fewer than 10 races to be plausibly competitive. Today, by contrast, just one seat, the 8th District being vacated by Republican Mike Fitzpatrick, is genuinely vulnerable to a party switch.
Four other seats are potentially, but only dimly, competitive at this point. But there's one big caveat — the possibility that a GOP ticket headed by Donald Trump could produce a drag in downballot elections that, at least in theory, could bring some Pennsylvania districts back into a state of competitiveness.
Here's our rundown. The current partisan breakdown in the delegation is 13 Republican seats and five Democratic seats. As always, contests are listed in descending order of the likelihood of a party switch in the general election.
GENUINELY VULNERABLE
8th District: Open seat (GOP Rep. Mike Fitzpatrick is retiring)
Now that the primary is over, we finally know the identities of the nominees in this district – a marquee House race nationally that includes Bucks County and portions of Montgomery County. On the GOP side, Brian Fitzpatrick – the incumbent's younger brother, an FBI agent – easily won a three-way primary. On the Democratic side, state Rep. Steve Santarsiero defeated second-time hopeful Shaughnessy Naughton in the primary by a 60 percent-40 percent margin. This has always been considered a competitive open seat – it leans ever so slightly Republican – and especially so in a presidential year, when Democratic turnout tends to be stronger than in midterm years. Most observers consider this a tossup contest.
POTENTIALLY VULNERABLE
6th District: GOP Rep. Ryan Costello
The slightly Republican-leaning district – which spans portions of Montgomery, Chester, Berks, and Lebanon counties – is one of several on this list that ought to be competitive for the Democrats but have become somewhat less so.
Costello, the former chair of the Chester County Board of Commissioners, succeeded former GOP Rep. Jim Gerlach in 2014. The district was a perennial target for Democrats during and after Gerlach's tenure.
But while Democratic hopeful Lindy Li brought noteworthy fundraising totals to the race – more than $300,000 in cash on hand at the end of the first quarter – she quit the race after her primary opponent, Mike Parrish, challenged her petitions. Parrish, by contrast, ended the first quarter with less than $16,000 in the bank – a pittance compared to Costello's $1.2 million on hand, which he can use to compete in the pricey Philadelphia media market. To be a genuinely competitive seat in November probably requires Parrish to surf a big anti-Republican wave in the general.
7th District: GOP Rep. Pat Meehan
GOP strategists were gleeful after the primary when it became clear that a star Democratic prospect – pastor Bill Golderer, who had received a fundraising boost from key national Democrats – had lost the primary by an outlandish 74 percent-26 percent margin. The primary winner was the 2014 Democratic nominee, Mary Ellen Balchunis, who ended up losing to Meehan by 24 points. The problem facing Balchunis this time around is much the same as the one facing Parrish in the 6th: Despite running in competitive territory, Balchunis has just $17,721 in the bank to fund a campaign in an expensive media market, while Meehan, the incumbent, can dip into a $2.5 million warchest.
16th District: Open seat (GOP Rep. Joe Pitts is retiring)
This Lancaster-based district is competitive on paper – in 2012, Mitt Romney won it with just 52 percent, and in 2008, Barack Obama carried it by a fraction of a point. In the Republican primary, State Sen. Lloyd Smucker defeated businessman Chet Beiler, and he now has to be considered the favorite in the general. But at least Democrats will have a candidate in place in the event the bottom falls out for Republicans in the fall. The Democrat is Christina Hartman, a former official with two human-rights organizations, the National Democratic Institute and Freedom House. Among the longer-shot Democratic congressional candidates in Pennsylvania this cycle, Hartman has the most money in the bank — $126,988.
15th District: GOP Rep. Charlie Dent
Democrats have long salivated over this Lehigh Valley district, which voted for Obama in 2008 by more than five points before narrowly backing Romney in 2012. But thanks to a combination of Democratic recruiting failures and the consistent moderation of Republican incumbent Charlie Dent, the seat has remained solidly in GOP hands. This time the Democratic candidate is Lehigh County Democratic chair Richard Daugherty, who lost to Dent by 14 points in 2012. (Dent didn't even attract a Democratic opponent in 2014.) In recent months, Dent has carefully buffed his moderate profile, endorsing John Kasich in the GOP primary, and Daugherty's reported cash on hand is laughably small at just $222. (With $1.2 million, Dent's warchest is more than 5,000 times bigger than his rival's.) Still, Daugherty gives the Democrats a warm body in a swing district in case of a Democratic landslide.
OTHER SEATS
A few other seats are not considered competitive for a party switch but are worth a brief mention because they will at least have have inter-party competition, unlike so many other seats in the state this year.
Two of these are the northeastern Pennsylvania-based 11th District held by GOP Rep. Lou
Barletta and the southwestern Pennsylvania-based 12th District held by GOP Rep. Keith Rothfus. Both districts have a notable GOP tilt.
Barletta faces Democrat Michael Marsicano, his predecessor as mayor of Hazelton, who has $99,289 on hand. Barletta has $323,903.
Rothfus, meanwhile, faces a rematch with 2014 Democratic nominee Erin McClelland, who has $25,058 in the bank to Rothfus' $1,118,040.
There's a big and fundamental difference between these Democratic challengers and the slightly more plausible challengers like those in the districts held by Meehan, Pitts and Dent. Democrats running in the potentially competitive GOP-held seats in southeastern Pennsylvania could gain from Trump on top of the ballot, whereas Barletta and Rothfus could be the ones to gain with Trump.
Barletta rose to prominence on his opposition to illegal immigration – one of Trump's key issues – while Rothfus' district includes many of the working-class voters who form the core of Trump's base.