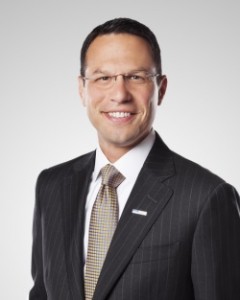 2016 congressional candidate Mike Parrish scored his second big endorsement today, securing the support of Montgomery County Commissioner Josh Shapiro.
"I'm proud to endorse Mike Parrish for Congress," said Shapiro. "Mike has protected our country, created jobs, and has been a fierce advocate for Pennsylvania veterans. Mike understands the challenges facing Montgomery County and is offering sound ideas to create more economic opportunities."
"I'm honored to have the support of Commissioner Shapiro," said Parrish. "Josh's record of cleaning up Montgomery County's government is an example for all of us looking to make a difference. And I look forward to working closely with Josh over the coming months."
Parrish is a former Army Aviator who briefly ran for the seat back in 2014.
He announced last month that he'll be running for the Democratic nomination in 2016 and revealed he had the backing of former Governor Ed Rendell.
Shapiro is popular in Montgomery County and among higher-ups in the Democratic Party, who tried to convince to run for Senate. He passed, but it is widely suspected he could run for Attorney General next year instead.
We reported in June that West Whiteland Township Supervisor Joe Denham is "aggressively looking at running for the Democratic nomination".
The seat is currently represented by freshman Congressman Ryan Costello (who we interviewed just last week).
The 6th district consists of parts of Berks, Chester, Lebanon and Montgomery Counties.