It's no surprise that national Republican leaders like Earl Granville. He is a decorated combat veteran and veterans' advocate, a photogenic young candidate who promises a stark contrast with incumbent Democratic congressman Matt Cartwright (D-Lackawanna). He's running in a district that Donald Trump carried by nearly 10 points and has the support of House Minority Leader Kevin McCarthy (R-CA).
But his path to the nomination runs through a crowded Republican primary field, and it just got rockier. 
In February 2019, Granville posted a quote graphic to Instagram with a quote from Malcolm X about the power of the media. In an accompanying comment, he criticized actor Jussie Smollet and defended the high school students from Covington, Ky. who attended the March for Life.
"I'm not a super Trump-Tard but I can't stand the left leaning side," Granville wrote. "People are being called racists just for voting for the guy."
He continues, "I didn't vote for the man, but, I believe this is probably a big reason why Donald Trump won the 2016 election."
The post was first reported by the National Journal and was later obtained by PoliticsPA.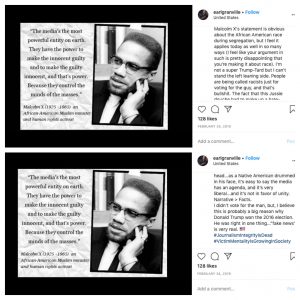 Granville's campaign issued a statement acknowledging the authenticity of the post and argued it was taken out of context. 
"I 100% support President Trump and one of the main reasons I decided to run for Congress is to give him a Republican House," Granville said. 
"In a past social media post I attempted to point out the anti-Trump bias and fake news presented by many in the media, I repeated a derogatory term used by the left to make my point, I should have chosen my words more carefully," Granville continued. 
"I'm honored to have been endorsed by Vets for Trump and I am not in this to attack other Republicans. I'm running to defeat Matt Cartwright and to remove Nancy Pelosi from the Speaker's chair."
Chris Borick, a political science professor and Director of the Muhlenberg College Institute of Public Opinion, said the comments as "very damaging" to his campaign – although he wouldn't characterize it as a knockout punch.
"This is something that absolutely he's going to have to address for a while and probably carry with him all the way to the election," Borick said to PoliticsPA. "Anything that smacks of anti-Trump among Republican electorate in a district like the 8th can't be helpful." 
A total of six Republicans have filed to run for the Trump friendly district held by Rep. Matt Cartwright (D-Lackawanna). The candidates attempting to unseat Cartwright are former Trump Administration appointee Jim Bognet, Mike Cammisa, Teddy Daniels, Granville,  Luzerne County Councilman Harry Haas, and former Hazleton Mayor Mike Marsicano. 
Granville is not the lone Republican candidate to receive support from a "Vets for Trump" group in this primary. Teddy Daniels, an Army combat veteran, also received support from a different "Vets for Trump" group, according to the Citizens Voice.