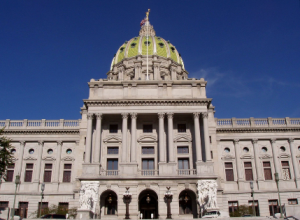 Parrish withdraws from PA-6, Scott Wagner wins a special election, we give out a social media report card for the Lt. Gov candidates and a look at a PA-13 candidate forum. Good morning politicos, here's the Buzz.
SD-28: Wagner Wins Special Election: Though unofficial, Scott Wagner seems to be the winner in the special election.
PA-6: Parrish Withdraws: The Democratic field for the open seat narrows to one – Manan Trivedi.
2014 Congressional Vulnerability Ratings: For the third consecutive campaign cycle, PoliticsPA is publishing periodic congressional vulnerability rankings that list of U.S. House districts in Pennsylvania by the likelihood of a party switch in November.
PA-Gov: Schwartz Releases Proposal For Apprenticeship Program: The latest piece in her workforce development plan.
PA-Gov: McGinty Releases New Clean Energy Jobs Ad (VIDEO): The gubernatorial candidate highlighted her experience as DEP Secretary in her latest TV commercial.
PA-Gov: Firefighters Endorse McCord: Pennsylvania Professional Fire Fighters Association endorsed the State Treasurer in his campaign for the Governor's mansion.
Social Media Report Card: Lt. Gov. Candidates: PoliticsPA scores the Lieutenant Governor candidates on their website and social media presence. Grades are subjective represent a combination of quality and quantity measurements.
PA-13: Candidates Gather for Entertaining and Enlightening Forum: Three Democratic candidates and even one Republican spoke to a group of voters and supporters last night.
Politically Uncorrected: One That Matters: So, the wide appeal of the Lieutenant Governor's office is somewhat paradoxical.
Reader Poll: Did Kane Do the Right Thing?: We ask our readers whether the Attorney General made the right decision by dropping the corruption case.
Reader Poll: PA Will Have a Woman in the Congressional Delegation Next Year: A slight majority of our readers believe there will be a PA Congresswoman elected this year.
Legislative Elections Update:
SD-28: Conservative write-in candidate Scott Wagner won last night's special election against Republican Ron Miller and Democrat Linda Small. The official certification of the write-in ballots won't be finalized until 3/31 but both Small and Miller conceded.
HD-170: A voter in state Rep. Brendan Boyle's 170th District in Northeast Philly claims that 833 of the 1,052 signatures he submitted are invalid. State representatives need 300 valid signatures to qualify for the ballot. Voter Michelle Szydlowski's filing claims that 833 of the signatures were on pages notarized by Boyle's assistant chief of staff, Nicholas Himebaugh, violating a state law that says a notary can't have a direct or "pecuniary" interest in the transaction.
HD-182: Three voters are going to challenge the nominating petitions and statement of financial interests filed by former state Rep. Babette Josephs, who is seeking to reclaim the 182nd District seat she lost in 2012 to state Rep. Brian Sims. The voters, including Duncan Black who blogs as "Atrios" at eschatonblog, claim that 480 of the 599 signatures filed by Josephs are invalid, including 231 that include "information that appears to have been provided by someone other than the signer."
HD-194: Sean Stevens, who today said he is withdrawing as a candidate for the 194th District, which runs from East Falls to Roxborough, challenged the residency of incumbent state Rep. Pam DeLissio. Stevens claims DeLissio has received a homestead exemption for property taxes on a condo in Harrisburg each year since she bought it in 2009, making that her real residence.
HD-202: State Rep. Mark Cohen's nominating petitions are being challenged by his primary opponent, Jared Solomon, in Northeast Philly's 202nd District. Solomon claims that Cohen did not reach 300 valid signatures because some of the pages were incomplete and others were notarized by Phyllis Swing, an employee in his legislative office.
Statewide
PA Independent: Philly school district broke, but the pay is good
PA Independent: Gifts galore in PLCD ethics scandal, but some say punishment lacking
Capitolwire: Four gun-related bills approved by House panel
Philadelphia
PhillyClout: Ballot challenges filed in state House races
Daily News: Former Pa. Liquor Control Board members ordered to pay thousands for gifts
Inquirer: Ethics complaints lodged in sting case
Inquirer: Program grows business in the Latino community
Commonwealth Confidential: Drug overdose prevention bill clears committee
Axis Philly: NAACP donations went to defunct nonprofit
WHYY Newsworks: Pa. lawmaker drew homestead rebate for Harrisburg residence, not Philly home
KYW Newsradio: Protest Over Out-of-State Hiring at South Phila. Shipyard Draws Hundreds
SEPA
The Intelligencer: Tina Davis' bill aims to curb scrap metal thieves
Delco Daily Times: Planned Parenthood PAC backs 164th District hopeful
Pottstown Mercury: Parrish exits race for Gerlach's 6th District U.S. House seat
Pottstown Mercury: Developer wants to 'swap' locations for Phoenixville senior housing project
Daily Local News: Chester County now has its own App
AP: Pa. hunting agency agrees to demand for changes
Bucks County Courier Times: 13th District candidates debate at NAACP forum
Pittsburgh
KDKA: Schwartz says Harrisburg needs woman Gov
KDKA: Push on to get health insurance by March 31
KDKA: Gov and Mayor joke days after Peduto endorses Wolf for Gov
KDKA: "Rocco's Law" Passes House, Headed To State Senate
Early Returns: Trivedi gets a clear path
Early Returns: Corbett allies challenge Guzzardi
Early Returns: McGinty's new, bigger ad buy
Early Returns: Schwartz on apprentices
Post-Gazette: Unemployment drops in Pittsburgh area, but so does number of available jobs
Post-Gazette: Pittsburgh will challenge ruling that allows police officers to live outside the city
Tribune Review: Kane refers LCB ethics question to Dauphin County district attorney
Southwest
Observer-Reporter: Pa. House passes Rocco's Law with harsh penalties for harming, killing K-9
AP: Corbett, lawmakers slam Pa. hunting agency
AP: Former PLCB officials cited in probe
Altoona Mirror: New charter might not specify departments
Altoona Mirror: Two Reade Twp. residents get threatening letters from 'Klan'
NEPA
Times-Tribune: Casey, law enforcement push for federal bill to stem opioid tide
Times-Tribune: Hazleton police chief denies cops seized congressional candidate's nominating petitions
Citizens Voice: 2016: If Biden runs, how will he fare in 'Hillary Country?'
Pocono Record: Charter school challenges court ruling, says 2011 vote in its favor should stand
South Central
Patriot-News: Corbett supporters challenge petitions of GOP primary rival
Patriot-News: York County polling places are lonely places for this special election
Patriot-News: Kane's office refers report on former LCB officials receiving gifts to Dauphin County DA
Patriot-News: Reform activist Gene Stilp asks for ethics probe of Pennsylvania lawmakers snared in aborted sting
York Daily Record: Special election: It's all over but the counting
York Daily Record: Scenes from the York County polls
Lehigh Valley
Morning Call: 3 linked to PLCB accepted gifts from vendors
Morning Call: 'Good Samaritan' bill would give limited immunity to people who report overdose
Morning Call: PUC wants speedier process for switching electricity suppliers
Morning Call: Former treasurer of nonprofit gets jail for thefts
Express-Times: Ex-Bethlehem Mayor John Callahan joins Florio Perrucci Steinhardt & Fader
Express-Times: DEP investigates after Nazareth gasoline spill
North by Northwest
Go Erie Times: Minimum wage debate alive in Erie
Go Erie Times: Dahlkemper names Erie native Gary Lee director of administration
Sun-Gazette: Marino still calls for flood insurance act repeal, talks issues
Sun-Gazette: A bright idea could help to reduce crime in Williamsport
Sun-Gazette: Search for new council member to start over
Opinion
Inquirer: Inquirer Editorial: Dropped sting hit machine
Philly.com: End union thuggery
Patriot-News: With Sullivan arrest, Papenfuse still letting questions fester: Editorial
Post-Gazette: Nicotine con job: The state must protect against faux cigarettes
Times-Tribune: Courtright needs to fight job exodus
Express-Times: EDITORIAL: Easton Area School District should pursue advertising policy, revenue
Blogs
Keystone Politics: #HD182: Josephs Campaign Accused of Forging Atrios's Signature
Commonwealth Foundation: Wine, Dine, and Bribe
PA Budget and Policy Center: More Minimum Wage Momentum in WV and MD. Is PA Next?
2 Political Junkies: Patrick Moore Gets Fact-Check! (And The Trib Looks Bad As A Consequence)
Lehigh Valley Ramblings: Is ET Public Payroll Database TMI?
Media Trackers: Ethics Board: Pennsylvania Liquor Officials Violated Ethics Act
Media Trackers: Pennsylvania House Passes Union Violence Bill, Unions Get Melodramatic