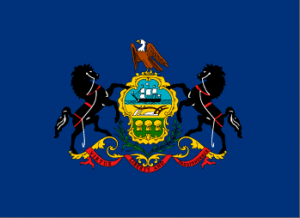 McCord wore a wire, Dougherty meets Clinton and we answer the ten questions from Tuesday's election. Good morning politicos, here's the Playbook!
McCord Wore an FBI Wire As Treasurer: Rob McCord cooperated with the agency before pleading guilty to extortion.
Ten Answers from Tuesday's Election: We take a look at what Tuesday's results taught us.
Sabato's Crystal Ball Shifts PA-6, PA-7 Towards GOP: The seats go from Likely Republican to Safe Republican.
Clinton Secures All of PA's Superdelegates: The entire group of Pennsylvania's 21 superdelegates are backing Hillary Clinton.
Dougherty Meets with Clinton: The influential labor leader got invited to a small gathering with the Democratic Presidential front-runner.
2016 PoliticsPA Primary Election Pool Results: See who made the top 20.
PA-Sen: Toomey: Links to Trump 'Outrageous': The Democratic nominee is trying to tie the incumbent to the firebrand GOP front-runner.
PA-9: Shuster Endorses Donald Trump For President: Congressman Bill Shuster has decided to support the Republican front-runner for President.
Statewide
StateImpactPA: Spate of small earthquakes shuts down fracking activity in Lawrence County
State House Sound Bites: DePasquale warns of costs of stalemate
Capitolwire: The establishment strikes back against Sestak; Politicians, not prosecutors, tapped for Attorney General
Capitolwire: Some old and new PA state legislators fail to win their primaries
Philadelphia
Inquirer: Council encourages 'vertical farming'
Inquirer: Council hearing addresses teen homelessness
Inquirer: Pa treasurer candidate: Ban pension marketers
The Big Tent: Kasich trounced in hometown
Heard in the Hall: DNC debuts new website
WHYY Newsworks: Councilman fundraiser trades rubber chicken in for pigskin
WHYY Newsworks: Gender considerations make a difference in evaluating presidential candidates
SEPA
Pottstown Mercury: '76 a window into ugliness of a GOP contested convention
Pottstown Mercury: New Hanover supervisors need 'do-over' to appointment replacement
Bucks County Courier Times: Northampton Supervisors: Give us a share of Philadelphia wage tax
Bucks Local News: Newtown Township supervisors promise to approve resolution opposing Elcon's plan for a hazardous waste recycling facility in Falls Township
Pittsburgh
WESA: Can A Republican Win Pennsylvania?
Tribune Review: Premium hikes expected under Obamacare
Post-Gazette: Primary bid for the 46th District state House seat could be decided by absentee ballots
Post-Gazette: Trump beats Kasich in McKees Rocks
Southwest
Beaver County Times: U.S. Sen. Casey touts legislation to help families save for college
Beaver County Times: Attack mailers failed to spur victories in 10th, 15th legislative races
Beaver County Times: Beaver County considers increase to hotel tax
Altoona Mirror: Shuster's lead in 9th narrowing
NEPA
News Item: Dems victory comes despite arrest
News Item: North'd County primary totals
Citizens Voice: Trump dominated in Luzerne County
Citizens Voice: Barletta stands by Trump on campaign trail
South Central
Patriot-News: Harrisburg council approves tax hike on workers, changes to financial recovery plan
Patriot-News: The enduring bromance between Trump and Putin
Patriot-News: Controversy stalls Harrisburg mayor's nominee to water authority board
Carlisle Sentinel: Gettysburg tourism creates $95 million in economic benefits
York Dispatch: York County commissioners to up hotel tax
York Dispatch: High primary turnout leads to lines at York County polls
Roxbury News: Harrisburg City Council April 27, 2016
Lehigh Valley
Morning Call: Surprise! Allentown finds $2 million in spare cash
Morning Call: Bethlehem councilwoman draws attention to domestic abuse
Morning Call: Hudson's Bay to add 200 jobs in Schuylkill County
Reading Eagle: Met-Ed plans to seek overall rate hike of 9.5 percent over current rates
Reading Eagle: Berks economic groups approve merger
North by Northwest
Centre Daily Times: Pa. Education Secretary Rivera addresses educators, talks standardized testing
Centre Daily Times: Patton Township open house profiles open space opportunities
GoErie: Wiley, Dahlkemper to speak at Erie rally
GoErie: FirstEnergy requests 17.1 percent rate hike
GoErie: Chairman expels Erie county democratic Party executive board member
Opinion
Patriot-News: In a rough year, was Tuesday's primary a respite for Gov. Tom Wolf?
Patriot-News: The Republican Party has just lost its anchor: Richard J. Yost
Patriot-News: As the budget deadline beckons, remember investing in education is a good thing
Inquirer: Fattah loss shows corruption matters
Inquirer: Pa. voters have cast their lot
Inquirer: Use Phila.'s strengths to promote further growth
Observer-Reporter: Problems at the polls need to be addressed
Citizens Voice: Easy Solution: Just ban all gifts to lawmakers
Post-Gazette: Livable for all: The city is right to focus on affordable housing
Post-Gazette: Trump goes global: The contour of a foreign-policy doctrine emerges
Blogs
Citified: There Might Be a Car-Free #OpenStreets Weekend This Fall
Citified: Op-Ed: Bernie Sanders Is Wrong About the Soda Tax
LuLac Political Letter: Trump's Foreign Policy Speech